UK
GPKSC & TeK have observed "Resistance Day" & organised a protest outside the Indian high commission London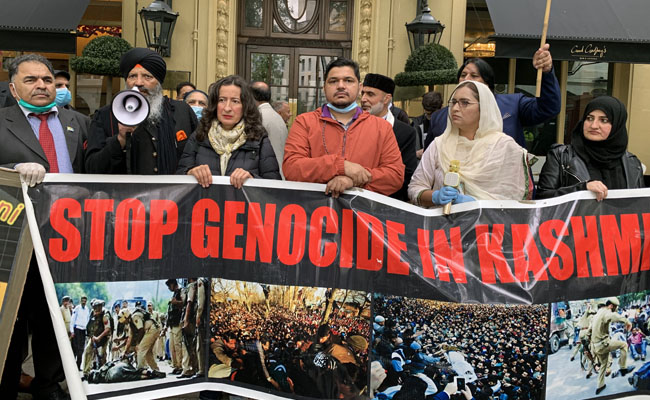 London: GPKSC and TeK UK have observed "Resistance Day" and organised a protest outside the Indian high commission London, to condemn the atrocities and brutal killings of innocent Kashmiri's in Indian Occupied Jammu and Kashmir. Resistance Day, is marking the anniversary of when a young Kashmiri leader was killed by Indian forces. The protestors wanted to show their solidarity with their Kashmiri brothers and sisters.
"Resistance Day" was marked by many of British Kashmiri's & Pakistani protestors, protesting outside the Indian High Commission in London, these were against the Indian atrocities committed by the Indian army against innocent civilians. British Kashmiri's observed 8th July as a "Resistance Day". The protesters all United from various different communities and chanted slogans against India's Modi government.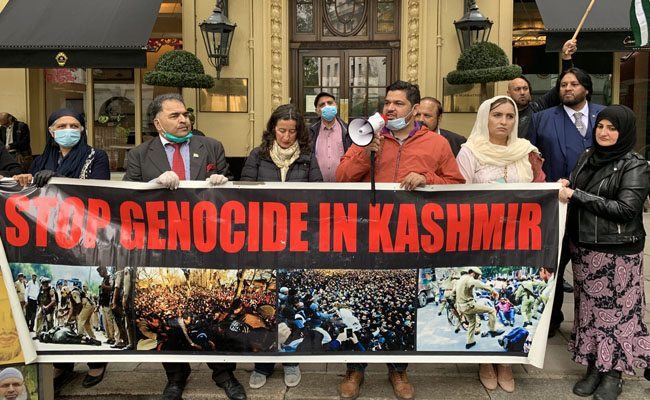 Raja Fahim Kayani, President Tehreek-e-Kashmir UK stated, that the international community must play its role in forcing India in lifting the inhuman curfew restrictions in occupied Kashmir, and now is the time to impose economical sanctions on India, because India has violated the universal declaration of human rights, and the UN security council resolutions on Kashmir.
Mr Kayani questioned why India is not permitting foreign observers to visit occupied Kashmir, if everything is normal and it has nothing to hide from outside the world. Raja Fahim Kayani, President Tehreek-e-Kashmir UK further stated that innocent Kashmiri's are suffering under a brutal lockdown for over eleven months, which has been designed to target the vulnerable, women, children and young people, they have been deprived of their basic human rights.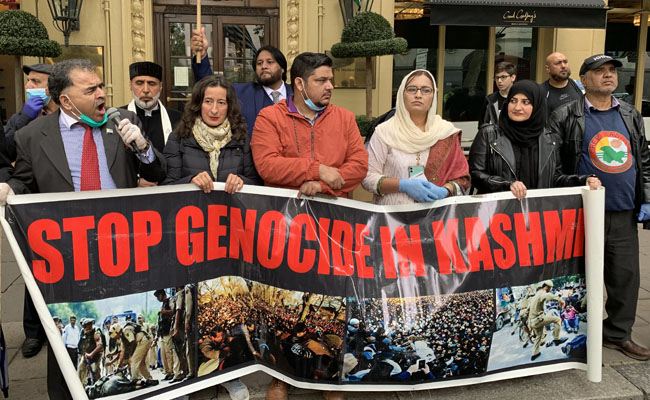 Raja Sikandar Khan, GPKSC Chairman stated, that today we are here to show our support and solidarity for the freedom struggle of the innocent people of IOJ&K.
Soraya Boyd CEO-Founder, Facilitate Global said that The right to self determination is the sovereign inalienable right of all Kashmiris.
Under Mr Modi India become lawless. Human rights violations are committed daily against a civilian and defenceless population in the Valley of Kashmir. Modi must be held accountable. Derogating from international legal frameworks India is a signatory not permissible.
Rehana Ali, Director International Human Rights Voice of Victims stated, that women and children have been targeted during the Kashmir conflict to inflict torture. The Indian army have used rape as a weapon of war against the women and young girls of Kashmir. The army has been given impunity under black laws and so far not a single Indian army soldier has been prosecuted for their inhumane violence.
Azam Farooq, Secretary General Tehreek e Kashmir UK Midland Zone stated, that the image of a three year old child, who was sat on top of the murdered body of his grandfather, shot by Indian forces, has sent shock waves throughout the region. That picture has exposed the real face of so called largest democracy of the world, and Modi cannot continue to hide behind the fake propaganda of Bollywood & so called digital India. The strength of social media has fully exposed Modi's Neo Nazi fascism.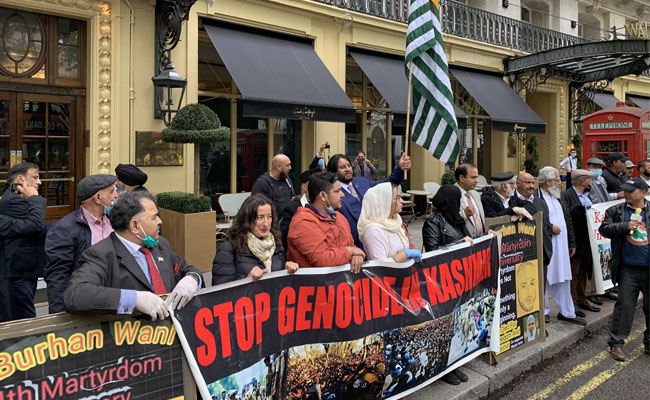 Riaz Mehmood Ex Minister AJK said that Kashmir struggle has entered into new phase after the death of young Shuhda's. India should read writing on the wall Indian army has been drafted in Kashmir.
Cllr Ishrat Shah said that Kashmir issue is the longest unresolved issue in the United Nations and it is the responsibility of the UN to implement the resolutions on Kashmir.
Raja Ishaq, Muslim Conference, Ch Tariq Pakistan Patriotic Front,
Ch Shaban, Tehreek e Insaf AJK , Ch Dilpazir , Habib Jaan, Ch Muhammad Shabir ,Amin Jalal ,Many Leaders of religious institutions & various political parties participated to commemorate a Resistance Day.