Articles
Crisis in Kashmiri leadership a good news for India?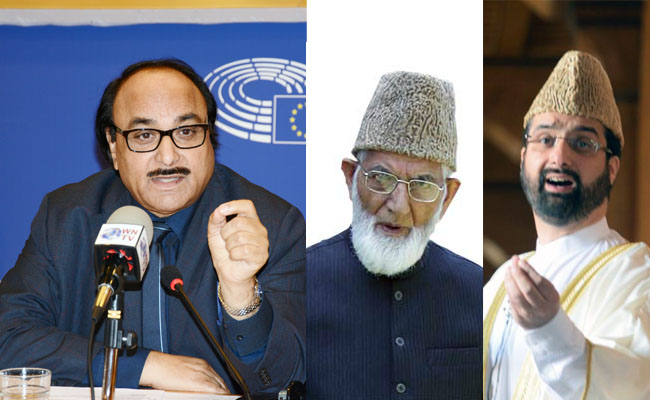 Written by: Dr. Syed Nazir Gilani
The resignation of Syed Ali Shah Gilani from All Parties Hurriet Conference has upset the apple cart of Kashmiri politics on both sides of cease fire line. He is 91 years old and has remained a serious and a credible threat to Indian rule in Kashmir. There is an audio and an explanatory letter, the latter gives the details of his decision to sever all his relationships with APHC. However, it does not mean that he has given up his mission of a defiance against Indian occupation of Kashmir until he breathes his last. So India has nothing to celebrate.
The question that concerns us is, should he have resigned at this point? The answer is no, he should not have resigned. Now that he has resigned and has handed down a detailed explanation, there are many more questions that need to be asked from rest of the Hurriet Conference constituents, of all descriptions, seen in Srinagar or their shadow representation based in Islamabad. I feel personally sad and sorry, because it is very unlike of the Ali Shah Gilani that I have known as a teacher, as an editor, as a writer, as a legislator, as a religious leader and above all as a close relation, since 1968. It is interesting that in our interactions the relationship has never surfaced as a determining factor. There has been an unexpressed admission of it. I have witnessed his accredited people or nominees in Islamabad, exploit the distance and look after their own spoils.
Why did he resign? Was he ill-advised or was he disappointed? He is a man of faith and he would never lose faith in his Allah. He has endured the worst torture in Indian jails and has grown old as a perfect holy man, ready to return to his creator. Hurriet Conference (APHC) started as THK and blossomed into an Alliance in 1993 with a Constitution. It was strong and tough. World had to pay attention to it. Governments in Pakistan and Kashmiris worked hard to fly its flag. Indian establishment quivered at the very idea of APHC. Syed Ali Gilani did not mind accepting an 18 or 19 year old Mirwaiz Umar Farooq as his chairman.
Kashmiris succeeded to open their first embassy – Kashmir Awareness Bureau in Delhi. Indian establishment could not stop it. People like Kuldeep Nayar and Justice Rajinder Sachar attended the inaugural ceremony. Curse of Albatross hit it and it was closed after many years of hot diplomacy. APHC was visited by another curse and it was split into two. It was an engineered move and President Musharraf called Syed Ali Shah Gilani a "Pagal Bhuda" (Mad Oldman). He ridiculed the old man at the breakfast meeting with Indian press in Delhi. It was anger of a powerful man against a weak but morally very strong man. Syed Ali Gilani refused to be a passenger in Musharraf's bus to sell his four point formula on Kashmir. He became a persona non grata.
Politics and militancy in Kashmir continued to be hit by many more curses. Musharraf pulled down the militant scarecrow and made an admission in his book that Pakistan had been the sponsor of Kashmir militancy. Kashmiris who refused to act as sales person for 4-point Musharraf formula were targeted and marginalised. It would remain a national shame in the history of Pakistan that a document titled "The Beginning of the Future", prepared by Institute of Regional Studies, Pakistan and International Institute for Peace Initiative, India accepted the role of RAW and refused a  role to  the people of Kashmir. Under Part II it read, "to discuss the process and not substance of resolving the Kashmir conflict", with APHC.
All of a sudden APHC was overhauled and further reduced to three leaders, titled, Joint Resistance Movement (JRL). This was an act extraneous to the APHC Constitution adopted on 31 July 1993. Hurriet never failed. It took off smoothly and the Kashmir resolution at the December 1994 Islamic Summit in Casablanca, and the appearance of a two-member Hurriet delegation comprising of chairman Mirwaiz Umar Farooq and Maulvi Abbas, Prime Minister and President of Azad Kashmir, Kashmir Committee chairman Nawabzada Nasrullah Khan, Dr. Syed Ghulam Nabi Fai of KAC and Dr. Syed Nazir Gilani of JKCHR at the summit was a great success. Kashmir influence was so prevailing that Indian Government could not stop it prevail in Casablanca.
The JRL experiment does not seem to have been a wise reflex in the interests of Kashmir or any intra-agency discipline either. It had to be so because APHC did not encourage an independent outside input. It failed to develop a culture of thorough discussion and be led by the rules of Constitution. There was no constitutional wisdom and gradually its sails lost wind. 
The second main error made by APHC was that its accreditations for Islamabad Chapter became suspect, mediocre and majority of them had no hesitation to return as turn coats. These turn coats used APHC title as roller skates and their domineering interests were hooked on different exit ramps. Those who were a challenge to Indian rule, started trade with India via Muzaffarabad and would hold meetings around expanding the economic constituency. The resignation of Syed Ali Shah Gilani may be ill timed, ill-advised and badly counselled, but, there is a charge sheet of myriad bad deeds, against the Azad Kashmir/Pakistan chapter. There are good and noble souls in the chapter as well.
Pakistan has remained a host to this chapter and to many others. It should continue with its hospitality and support. But it would be a serious error of judgement, if we err and out of necessity try to put a spin on the character of resignation and save those who are named in it for doing or being involved in doing bad deeds. It is no more a secret that many of these people, have a case to answer. We need to know about the merits of this resignation and the status of allegations made by Syed Ali Shah Gilani.
The author is President of London based Jammu and Kashmir Council for Human Rights – NGO in Special Consultative Status with the United Nations.