UK
Cautious reopening of West Midlands' pubs, bars and restaurants is key step to economic recovery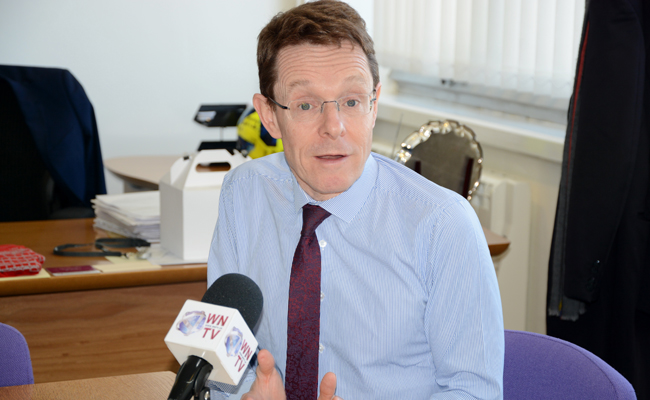 A cautious and safe reopening of the region's pub, bars and restaurants tomorrow can play a key role in getting the region's economy back on its feet.
Speaking at a Covid-19 press conference hosted this afternoon by Mayor of West Midlands Andy Street, a leading figure from the region's hospitality industry said tomorrow's reopening could not have come soon enough and that the sector has being working hard to make sure people are able to enjoy a long awaited night out while adhering to social distancing rules.
The hospitality industry has been one of the sectors hardest hit by the Covid-19 crisis with many jobs lost and venues closed as a result of the lockdown and more expected to follow in the weeks and months ahead.
That is why many businesses are looking to the reopening tomorrow as the opportunity to begin their recovery as well as support the region's wider economic revival.
This comes as the region's coronavirus infection rate is falling and health chiefs say they have robust test, track and isolate systems in place to contain outbreaks – as long as people follow the latest safety advice.
Speaking at the regional press briefing, which has been held every week during the pandemic to provide the latest information, statistics and advice to media and the public, was businessman Lawrence Barton, a leading figure in the West Midlands hospitality industry and owner of Birmingham's Nightingale Club.
Mr Barton said after the briefing: "We are the fourth largest industry in the UK and employ about 10% of people. In this region alone we employ several hundreds of thousands of people and have lost tens of millions of pounds during lockdown. That's money which has not gone into the economy.
"We have as an industry been decimated, hospitality businesses were among the first to close, or lose trade, in March and are now among the last to open but it is vital for the economy that we bounce back.
"We are relieved to be opening now. Of course we are being cautious with table service and limited numbers as no-one wants a second wave and it will be a while before some venues, such as nightclubs, can reopen."
Mayor of the West Midlands Andy Street said: "Before lockdown we had a thriving hospitality industry employing huge numbers of people, but the coronavirus pandemic has hit the sector particularly hard.
"But with the number of new infections continuing to fall, the good news is we are now in a position to safely, and gradually, reopen our hospitality businesses, meaning our region's wonderful visitor attractions, restaurants, bars, and hotels can slowly begin getting back to work.
"However we have all seen what has happened in Leicester, and these businesses will only be able to stay open if the people of the West Midlands continue to show a high level of responsibility. That means following the latest Government guidance, observing social distancing, and regularly washing hands."
Speaking at the WMCA's weekly briefing to media, Clive Wright, the COVID 19 Regional Convenor for the Department of Health and Social Care, offered reassurance ahead of the reopening.
He explained that infection rates have come down and that Public Health England and local council staff are on standby to identify potential outbreak and take action to prevent further spread.
He said: "There have already been small outbreaks in the West Midlands and these have been brought under control by testing and tracing contacts and by introducing effective controls such as better social distancing and people self-isolating. The faster we act, the more effective test and trace will be."
West Midlands Police chief superintendent Steve Graham said: "Businesses have suffered financially as a result of the lockdown measures and it's great to see them being able to reopen this weekend.
"However we need people to take personal responsibility for their actions and behaviour – observe the social distancing measures that will be in place and follow instructions laid out by venues so they are able to operate effectively and stay open."
The region's Economic Impact Group, which brings together business leaders, central government, banks, trade unions, and local authorities including the West Midlands Combined Authority (WMCA), has been advising the authorities on the recovery and this week also looked carefully at the plight of the hospitality sector.
Meanwhile, Transport for West Midlands, which is part of the WMCA, has issued a reminder that public transport should only be used if there is no alternative, that passengers should observe social distancing guidance and that for most people it is a legal requirement to wear a face covering when on board a bus, train or tram.