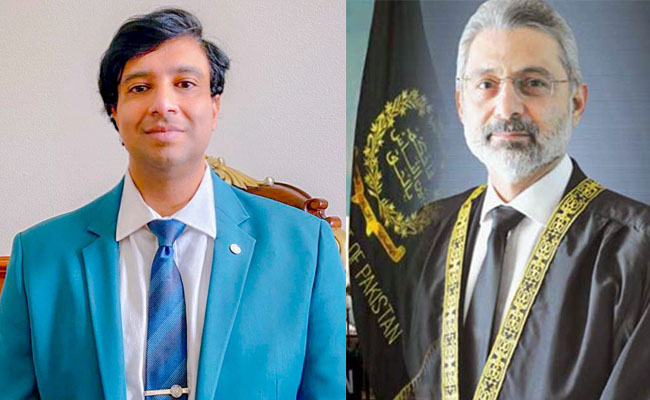 Written by: Dr Iqtidar Cheema
While writing his satire in late 1st century AD the famous roman author Juvenal cited famous Latin phrase, ' Quis custodiet ipsos custodes?' ("Who will watch the watchmen?"  The centuries old Latin phrase seems very relevant to the recent Judgement of Supreme Court of Pakistan (SC) on Presidential reference against Justice Qazi Faez Isa. Although the detailed Judgement on the matter has yet to be issued. But in short order the SC has termed the Presidential reference invalid and, in its judgement, stated that "The reference is declared to be of no legal effect whatsoever and stands quashed." 
The apparent Government defeat in the matter is a result of poorer preparation of its legal team who filed a half-baked reference against Justice Isa. However, the matter is very significant when it comes to balancing the independence and accountability of the judiciary. Justice Isa verdict is a conundrum of insoluble tension between judicial independence and judicial accountability which Professor Alan Paterson once described. 
In May 2019, Government of Pakistan filed a reference of gross misconduct against Justice Isa. The reference alleged that three London properties were bought by Justice Isa in the name of his spouse and children.  But neither Justice Isa nor his spouse disclosed purchase of these offshore properties in their wealth returns. 
The SC in short order also authorized the Commissioner of Inland Revenue and tax authorities to issue notices to Justice Isa's spouse and children to explain the nature and source of funds regarding properties in the UK. Tax authorities were also instructed by the court to complete their investigation and proceedings within 60 days and issue an order within 15 days of the investigation's conclusion and submit the final report to registrar of the SC within the seven days of such order. The SC registrar will then present the report to Chief Justice of Pakistan- who as Chairman will decide when to present it to the SJC.
The SC allowed the spouse of Justice Isa to make a statement before the court through video link as part of its hearing. While making her statement before the apex court Zarina Montessarat Carrera Khoso tried to establish that her husband (Justice Isa) had nothing to do with the London properties, which became the basis of the presidential reference against him. She acknowledged to transfer 7 hundred-thousand-pound sterling to UK in a lawful manner through her bank. She identified that the money was raised through her job as a schoolteacher in a Karachi and through yield from agricultural land. 
Some analysts have suggested that ordeal is not yet over for Justice Isa and further proceeding may take place against him after FBR inquiries. A lot of speculations are also being made that during the inquiry of  the Tax authorities it will be difficult for the family of Justice Isa to give an appropriate money trail through which three London properties were purchased. However, it is very clear that SC decision has given Justice Isa a clean chit and diverted the responsibility of any action from Justice Isa to his family. It's worth noting that clause 6 of article 290 of Pakistani constitution empowers the SJC to recommend the removal of any Judge who is 'incapable of performing the duties of his office or has been guilty of misconduct'. However, this constitutional provision cannot be applied to the family members of any of the judges. Hence, the outcome of the tax inquiries is highly unlikely to affect Justice Isa's legal standing as a Judge. 
The judgement reminds us the popular observation of Justice Isa he made on former Prime Minister Nawaz Sharif's verdict. Justice Isa in March 2018 remarked, 'The Panama Papers case was about London flats, but the judgement came on the iqama.'  Justice Isa might be surprised himself now that the matter under court consideration was of his alleged misconduct, non-declaration of the assets and assets beyond means but it has just been reduced to a simple matter of inland revenue scrutiny. 
As per most reliable property websites in UK; the current estimated value of three properties located at 40, Oakdale Road, London E11 4DL; 90 Adelaide Road, London E10 5NW and 50 Coniston Court, Kendal Street, London W2 2AN is 517,000, 557,000 and 6,00000 in Pound sterling. So, these properties are worth 1,674,000 Pound sterling cumulatively which is equivalent to 348,652,976 Pakistani rupees.  It is arguable that how many other schoolteachers in Pakistan would be able to own such properties in London like the spouse of Justice Isa. Furthermore, it will be very difficult for tax authorities to investigate the yield from Agricultural land.  
There has been a lot of argumentation during the court proceedings that how Prime Minister's asset recovery unit collected the records of the 3 London properties. It was argued that some very sophisticated spying mechanism must have been applied to retrieve the records of these properties. But anyone who has a little connection with UK would understand that most property and land records are available in the public domain in UK. Any member of the public who wishes to check property or land record of a house or a land does not need to follow any complicated procedure. Any common man can simply go to HM land registry's website with the following link:
https://eservices.landregistry.gov.uk/eservices/FindAProperty/view/QuickEnquiryInit.do
In less then 10 pounds payment you can instantaneously download most of property records including name of the owners, date of purchase, price of purchase and some other information related to a specific property.  As reported in Pakistani Media, Prime Minister Asset Recovery Unit received a complaint from a Mr Abdul Waheed Dogar on 10 April 2019 about Justice Isa and two other judges possessing offshore properties. Hence, retrieving the property records would not have required any alleged spying or unauthorised access of property records as these records are held in UK's public domain on Land registry website. 
Justice Isa's behaviour has been quite unprecedented throughout the proceedings. In May 2019, he first wrote a letter to President of Pakistan seeking information about the reference against him. He then widely shared it with the media. There must have been a better way of seeking information through established procedures. Sharing personal correspondence with media while holding a judicial office seems disorderly. Throughout the proceedings, the concentration of Justice Isa and his lawyers' has been focused on proving the malafide intention of the Government, accusing state agencies for spying an also having reservations about his own judicial colleagues i.e. Justice Ahsan and Justice Tariq. It would had been better if they had taken high moral grounds and elaborated more on the allegations of misconduct and assets beyond means.