Articles
Torture and Illegal Use of Pellet Guns in Indian Occupied Kashmir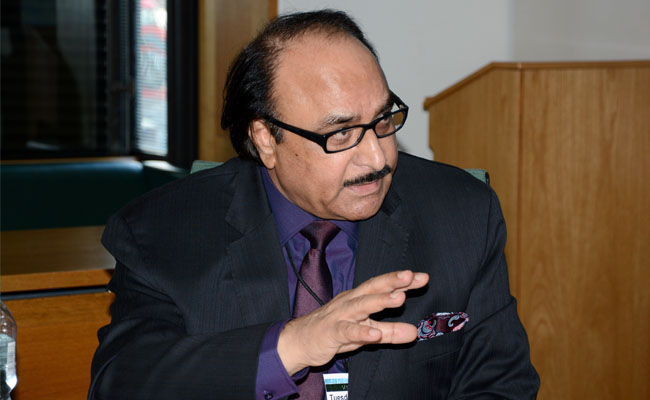 Written by: Dr. Syed Nazir Gilani
June 26 was celebrated as UN International Day in Support of Victims of Torture. Two important Zoom Events were organised by Institute of Strategic Studies Islamabad (ISSI) and Pakistan High Commission in London. ISSI had invited Guest Speaker to a Webinar titled Illegal Use of Pellet Guns in Indian Occupied Kashmir. The speakers list was very impressive. Unfortunately, despite an online technical assistance from ISSI all my efforts to Zoom Into their programme failed. I feel very bad about it. I am sure Ambassador Aizaz Ahmad Chaudhry, Director General and Ambassador Khalid Mahmood, Chairman would have reconciled my absence with an overriding factor of technology behaviour. Institute of Strategic Studies Islamabad maintains its lead in providing a reliable intellectual input on India, in particular the situation in Jammu and Kashmir.
The London event organised by High Commissioner Mohammad Nafees Zakaria and Team Pakistan High Commission, was another very impressive Kashmir specific event.  It had added Victims of Sexual Violence, Physical Torture and Widows to its list on the UN International Day in Support of Victims of Torture. I was able to Zoom into their Conference from Islamabad. After the early morning failure in Islamabad, it was a success in the late afternoon in London. High Commissioner Zakaria, has remained a committed friend of the people of Kashmir. He has succeeded in reaching out to the Kashmiri community in London. Very thorough, understanding and respectful senior diplomat.
Torture is inflicted to annihilate victim's personality and to deny the inherent dignity as a human being. The first death under torture became public in Indian administered Kashmir (re-occupied on 5 August 2019) when a young tailor Ghulam Hassan Naikoo, from my home town Baramulla was arrested on 12 August 1984 and his dead body was handed over to his family on 24 August 1984. The streets of Baramulla went up in anger and people protested for weeks and weeks. Indian army came forward with a compensation offer, which was rejected by the elders. At the end we lost a human being and with it the family lost the compensation too. Emotions and bad judgements always bring misery and disappointment.
Torture has remained a sport for Indian soldiers and Kashmir police, who are enthusiastic to ride the ladder of ranks, through the use of torture. They need to kill a human being to prove that he was a hard core militant or one who would challenge the Indian rule in Kashmir. The UN Reports of June 2018 and July 2019 on Human rights situation in IOJK , have between them 8 paras on the use of torture (5+3) and 11 paras (7+4) on the use of Pellet Guns, to maim, disable, blind and to kill. Indian army has a broad spread of torture apparatus and a passion to kill a Kashmiri. These reports provide an irrefutable evidence of wrong doing in Indian occupied Jammu and Kashmir. So we have credible evidence to proceed against India and its soldiers.
The two UN reports have estimated the Indian soldiers as between 500000 to 700000 and have said that this number would make Kashmir one of the most militarised zones in the world. On and around 5 August 2019, India raised the number of its army to 900000 and reoccupied the State and placed the people under a lockdown. Today is the 329th day of this unlawful and inhumane lockdown. To end Torture and to end use of Pellet Guns, we need to find ways to vacate the Indian aggression and re-occupation of 5 August 2019.
How is this possible? The answer lies in the Jurisprudence of Kashmir Case and UN Resolutions. As a first step we have to advance the wisdom of paragraph 181 of July 2019 UN Report. It states, "…there remains an urgent need to address past and ongoing human rights violations and to deliver justice for all people in Kashmir".
The second step should be to start a rigorous debate on the presence of Indian army in Kashmir. It has remained in violation of seven restraints placed on them. Four of these restraints were placed at the time of granting them temporary admission into the State and the other three restraints were placed in Para 2 © by UN SC Resolution of 21 April 1948, on their behaviour, number and location.
The third step should be highlighting the number of Indian soldiers that India has requested at the 608th Meeting of UN SC held on 8 December 1952. More so the assurance that "this force will have no supporting arms, such as armour or artillery", should remain at the core of our case against Indian army.
Fourth step should be to follow upon OHCHR's 6th recommendation under Para 183, that is, the provision of "reparation and rehabilitation" to all individuals injured and the family of those killed in the context of security operations".
Fifth we need to work on making a case for Indian reprimand at UN and expulsion. Articles 3, 4, 5 and 6 of UN Charter describe the manner in which a country could seek membership of the United Nations and the organization could suspend a country from the exercise of the rights and privileges of membership or for a persistent violation of the Principles contained in the Charter, could be expelled from the UN by the General Assembly upon the recommendation of the Security Council. The interpretation of membership and expulsion is explicit and simple.
Unless we start a rigorous movement and make a serious and concerted effort, of using the UN documented evidence against India and its occupation forces in Kashmir, we would be failing in our duty to the victims of Indian torture in Kashmir. On the UN International Day in Support of Victims of Torture we need to pray for all those in the world who suffer unlawful imprisonment and torture for demanding Equality and Self-Determination.
The author is President of London based Jammu and Kashmir Council for Human Rights – NGO in Special Consultative Status with the United Nations.