UK
Charity marks Prophet Muhammad (saw) birthday by relaunching Blessed Lands campaign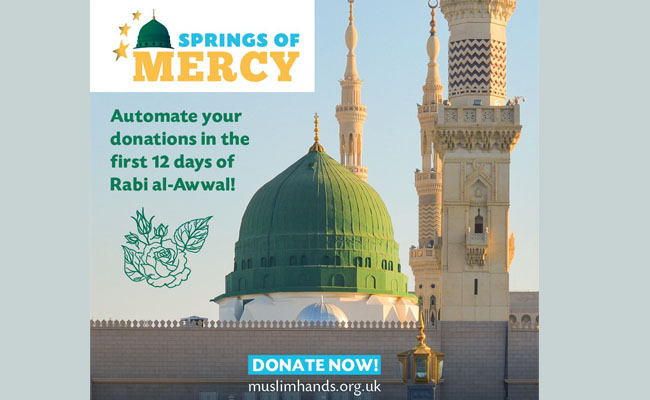 London: UK charity Muslim Hands is welcoming the blessed month of Rabi al-Awwal which marks the birth of the Prophet Muhammad (saw) by relaunching its Blessed Lands campaign. The campaign includes a variety of projects such as: running bread factories in Syria and Yemen to feed widows, children and the disabled; rehabilitating water wells to provide safe and clean drinking water in Yemen; distributing food in Jerusalem; and repairing homes in Beirut that were severely damaged by the recent blast.
The Blessed Lands campaign includes significant locations such as Yemen and Syria because their people were beloved to the Prophet Muhammad (saw), as mentioned in various traditional texts. The ongoing war in Yemen has created the worst humanitarian crisis in the world where 2/3 Yemenis cannot afford to buy food and half of the country is now on the brink of starvation. As many as 70 percent in Syria live in extreme poverty. Interventions such as these projects are vital if millions of people are to survive, with women and children being the most vulnerable.
This year the start of Rabi al-Awwal falls on Sunday 18th October 2020, with the Prophet Muhammad's (saw) birthday marked on the 12th day, which is Sunday 30th October 2020, dependent on the moon sighting. Muslim Hands has also launched 'Springs of Mercy' a handy online initiative for automating donations, so supporters can give charity during the first 12 days of this significant month.
To find out more about Muslim Hands and the work we do visit muslimhands.org.uk or call 0115 9117222.
Yasrab Shah, Muslim Hands Fundraising Director, said:
'We are extremely proud to be relaunching our Blessed Lands campaign during this beautiful month of Rabi al-Awwal, where Muslims believe that the mercy to mankind, the Prophet Muhammad (saw) was born. The projects that make up this vital campaign aim to support those that are in desperate need, in the blessed lands that are dear to our faith. We hope that our supporters will make use of our 'Springs of Mercy' platform and donate to make a huge difference.'