UK
Open Kitchen to distribute Qurbani meals to those facing food poverty in Hounslow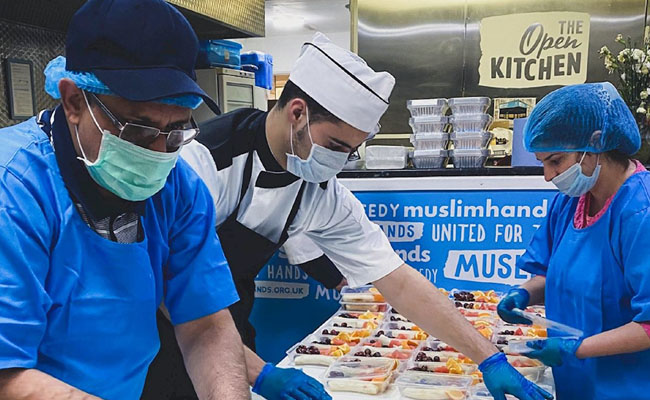 London: UK charity Muslim Hands will continue to support the vulnerable and homeless in the UK as part of its worldwide Qurbani programme. The Open Kitchen in Hounslow will use Qurbani meat as part of its cooked meals to feed hundreds of people during the Eid al-Adha festival celebrated between 31st July to 1st August.
Prior to the pandemic, 1 in 5 people in the UK struggled to put food on the table. Three months into the pandemic and the situation has drastically deteriorated. Soaring unemployment and financial hardship have left many families not knowing if they can afford their next meal. School closures have also meant that families have been unable to rely on institutions that had previously alleviated some of their burdens, such as ensuring that their children ate two meals a day, including breakfast and lunch.
The UK government recently made a U-turn and have extended free school meal vouchers across the school holidays for 1.3 million registered children after footballer Marcus Rashford campaigned to ensure children would not go hungry during the pandemic. Despite this, many families will still face hunger this summer.  According to the IPPR 'Over 1 million more people face poverty at the end of 2020 as a result of the coronavirus pandemic with 200,000 of these being children'.
The Muslim Hands Open Kitchen is free and aims to serve those experiencing hardship in the local area of Hounslow. With a safe, warm, and friendly environment, service users can pick up a hot meal or speak to someone in confidence, seven days a week.
To find out more about Muslim Hands and the work we do visit muslimhands.org.uk or call 0115 9117222.
Richard Curtis, Open Kitchen service user, said:
'I have lived in Hounslow for 15 years and I was in and out of prison for petty theft. When I came out 18 months ago, I found the Open Kitchen, which has provided me with two hot meals every day, so I have not had to steal for food. The management here are so friendly and have bought me clothes, help me when I am feeling down. This place has saved me, showed me love and has prevented me from going back to prison.'
Shakil Sidat, Muslim Hands UK Programmes Director, said:
'Our Open Kitchen has been a lifeline to hundreds of people living in London for the past two years. During the pandemic we changed our strategy to ensure that the vulnerable and homeless were not forgotten by delivering meals and providing a takeaway service. We are hoping that the Open Kitchen will resume to some normality by the end of July so that we can celebrate Eid with our service users and ensure they benefit from the blessings of Qurbani.'