UK
Young Combined Authority members meet for the first time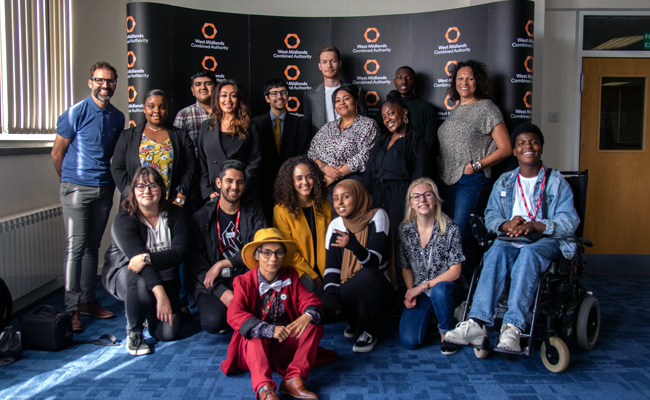 Deborah Cadman, CEO of the WMCA (second right) welcomes the Young Combined Authority with (left) Paul Clarke from the WMCA and (front) Amerah Saleh from Beatfreeks
More than 30 young people will be making their voices heard as members of the new Young Combined Authority (YCA) for the West Midlands came together for the first time.
They will represent the views of 16 to 25-year-olds across the region, which has one of the youngest populations in the country.
The YCA will independently challenge and inform the West Midlands Combined Authority's (WMCA) priorities, policies and decision-making, and will have observer status on the WMCA Board.
After 128 young people applied to join the YCA, 33 members were selected and came together for the first time at a launch event on Saturday, 14th September.
Topics for discussion included barriers that can prevent young people from achieving their ambitions, and the group's priorities for the coming year.
Andy Street, the Mayor of the West Midlands, said: "I am delighted that we have established the Young Combined Authority and would like to congratulate all the members on their appointment.
"We need the YCA to work alongside our main board to tackle the issues facing young people across the West Midlands. I am very much looking forward to working with the members to hear their ideas and contributions and to see how we can put them into action."
Cllr Brigid Jones, deputy leader of Birmingham City Council and WMCA portfolio holder for inclusive communities, said: "It's fantastic that young people from across the area have come together to form the YCA, and I'm really excited about working with them.
"With 21% of people living in our area aged under 25, the voices of young people must be heard because the way policy decisions affect them is different to how older groups are affected.
"We want to hear from the YCA about what matters to them, what would make the biggest difference to improve their lives and what we can do to make sure young people are getting the best start in their adult lives. I'm looking forward to meeting the YCA this week to find out what they want to focus on over the coming months."
The creation of the YCA follows the Leadership Commission's Leaders Like You report, published in June 2018, which said it was 'critical' to see the world through the eyes of young people.
The WMCA is working in partnership with Young Giant, part of the Birmingham-based Beatfreeks Collective which works to empower young people, to help the YCA set out their programme of work for the year.
The YCA will meet between four and six times a year, with informal meetings taking place in between.