UK
New Solihull bus network to help workers and local economy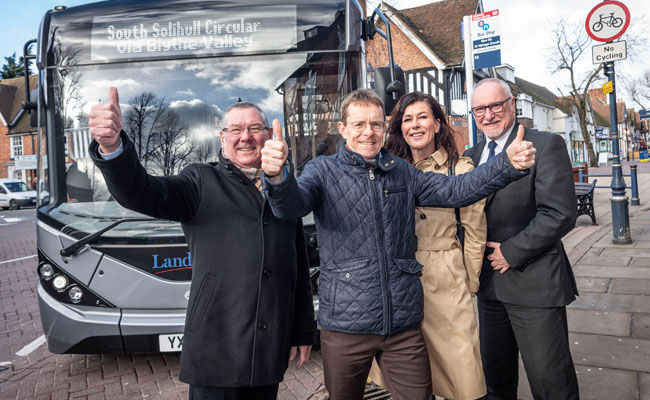 (from left) Cllr Bob Sleigh OBE, leader of Solihull Council, Mayor of the West Midlands Andy Street, Kerry Swingler, sustainable travel officer at Solihull Council and Danny Matthews, director of business development LandFlight
An improved Solihull bus network with routes to support the local economy and make it easier for people to take jobs will come into effect this weekend.
Transport for West Midlands (TfWM), part of the West Midlands Combined Authority (WMCA) is providing funding to pay for new services to key employment sites including the Blythe Valley Business Park and the Jaguar Land Rover site at Fen End.
Both sites, which employ hundreds of people, have not had regular and convenient public transport on a consistent basis during recent years.
Mayor of the West Midlands Andy Street said: "The new network is a good example of how we can step in and subsidise services that can make a real difference to people's lives -making it easier for them to get to where jobs are available.
"So we hope these new services will better connect people not just to jobs but also health care, education and leisure pursuits. That in turn will help support the local economy and wider efforts to improve air quality."
The new TfWM subsidised routes will see Elmdon-based LandFlight run two services to Blythe Valley while Henley-in-Arden based Johnsons will operate the 87 and 88 to Fen End.
Winning the contract to run the new services on behalf of TfWM has seen Land Flight take on 24 new drivers locally.
Cllr Bob Sleigh OBE, leader of Solihull Council joined the Mayor in meeting up with Danny Matthews, director of business development at LandFlight ahead of the new services taking to the road.
Cllr Sleigh said: "Unfortunately places like Blythe Valley and Jaguar Land Rover at Fen End, which are outside the urban area, have not always enjoyed the best public transport.
"That has made it difficult for people, and especially young people, to take advantage of the job opportunities available at such locations so we believe these new services can improve people's job prospects while also making it easier for people already working at those locations to switch from car to bus."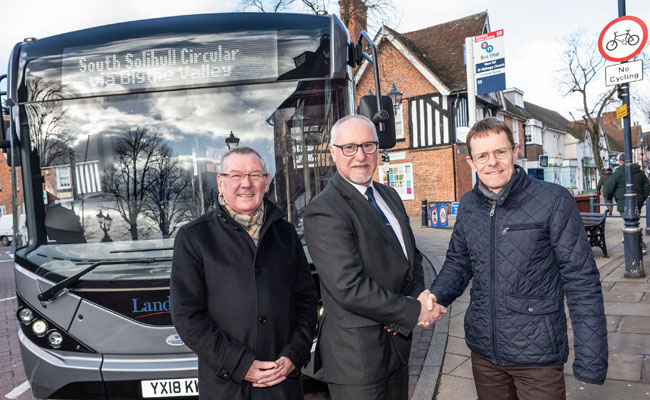 (from left) Cllr Bob Sleigh OBE, leader of Solihull Council, Danny Matthews, director of business development LandFlight and Mayor of the West Midlands Andy Street
The sustainable travel team at Solihull Council will also be working with businesses based at Blythe Valley and with Jaguar Land Rover to help staff make smarter travel choices and take advantage of the new services.
Lewis Payne, development director at IM Properties which owns Blythe Valley, said: "We welcome the introduction of the new bus service to Blythe Valley Park.
"This is a hugely positive step forward, providing proper public transport connectivity for some 3,300 people working at the park, linking key residential areas around Solihull as well as public transport nodes such as Solihull and Dorridge stations."
The services are due to start on Sunday (February 24) with passengers also benefitting from low floor, low emission buses on most of the new routes.
The new network follows a public consultation held last October which saw more than 1,300 individual responses, helping to shape routes and frequencies.
More information about the new services is available at networkwm.com/solihullchanges