UK
WMCA helps kickstart regeneration of West Bromwich town centre with car park demolition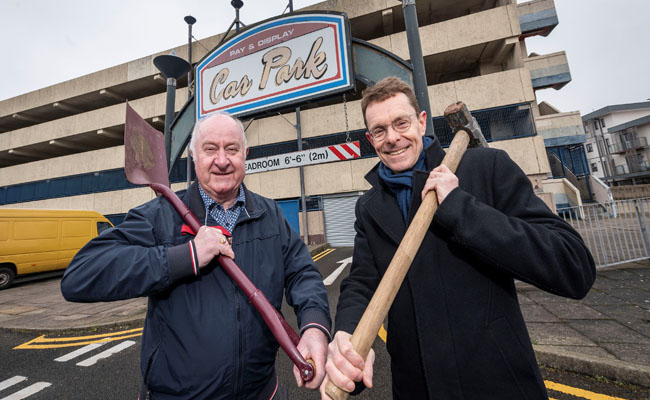 Cllr Mike Bird (left) WMCA portfolio holder for housing and land and leader of Walsall Council with Mayor of the West Midlands Andy Street at the soon-to-be-demolished Queen's Square car park in West Bromwich
Birmingham: The demolition of the Queen's Square car park in West Bromwich, kickstarting plans to further revitalise the town centre – is to go ahead after Sandwell Council and the West Midlands Combined Authority (WMCA) agreed an important investment package for the area.
The 1970s car park in Bull Street officially closed to the public last year and will now be demolished to make way for a modern mix of new homes, leisure and retail facilities.
The combined authority has worked with Sandwell Council, one of 18 partner local authorities in the WMCA, to help make this possible by providing funding to cover demolition costs.
Mayor of the West Midlands Andy Street, who is chair of the WMCA, said "We are working together to rejuvenate high streets in the West Midlands, and the regeneration of the Queen's Square car park is an exciting example of exactly how we want to work with councils to create attractive, inviting new spaces in our town centres.
"Across the country, it's clear that high streets aren't keeping up with changing shopping habits and the fast rise of online retailers and home delivery. We need to modernise and update our town centres, mixing homes with leisure facilities, retail and public services to create vibrant new hubs in our communities.
"Working in partnership with Sandwell Council, we're making a real difference to this part of West Bromwich by funding the demolition of this old, dilapidated car park, and I look forward to seeing how plans for the wider regeneration of the area develop."
Leader of Sandwell Council, Cllr Yvonne Davies, said: "Sandwell Council is committed to driving prosperity across the borough. By demolishing a car park which is almost 50 years old and well past its prime, we're creating new space for exciting developments.
"These will support a significant regeneration programme for West Bromwich town centre creating new opportunities for Sandwell.
"The Metro and bus interchange provide regular public transport services into the town centre, offering an attractive alternative to the car and supporting Sandwell's commitments to improve air quality and tackle climate change.
"It's important that as a partner of the WMCA we are seeing investment flow into Sandwell and we welcome the support from our partners towards our ambition for West Bromwich through this investment. The demolition of the car park in Bull Street is just the start of much bigger plans for the wider regeneration of the Eastern Quarter."
West Bromwich is one of five town centres across the West Midlands that have been put forward by their local councils for WMCA priority funding for regeneration schemes, reflecting the town's broader importance to the wider regional economy. The other four town centres are Bordesley Green, Bilston, Dudley and Walsall.
The WMCA has, working with its partners, set clear aims for its housing and regeneration strategy. It is backing developments on brownfield land to bring disused and run-down areas back to life and is focussed on projects which create job opportunities and affordable homes for local people and offer well connected public transport.
Cllr Mike Bird, leader of Walsall Council and WMCA portfolio holder for housing and regeneration, said: "The WMCA's dedicated task force and town centres funding provides much-needed support for struggling high streets, which have seen a drop in visitors and shoppers in recent years.
"We're working hard as partners to ensure councils have access to retail expertise, through the task force, with dedicated funding to help shape and speed up their plans to regenerate town centres.
"The demolition of the Queen's Square car park will kickstart wider redevelopment in West Bromwich, and local people will benefit from new homes, new shops and new facilities."
Last year the WMCA set up a Regional Town Centre Taskforce made up of prominent people from the worlds of retail, development, finance, housing, education and Government to work with local councils on moving forward redevelopment plans for town centres.
Taskforce chair, Jon Bramwell, a managing director at HSBC Commercial Banking, said; "In order for our town centres to thrive, they need to be rejuvenated to better support the needs of the local community.
"Drawing on the expertise we have across the Taskforce, and working closely with the local authorities, it is our ambition to unlock investment and support the delivery of new developments across these towns, to ultimately drive economic growth and improve the quality of life for local residents."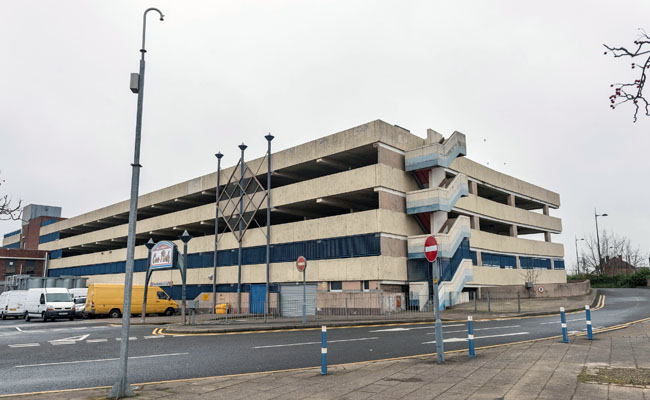 The 1970s-built Queen's Square car park which will soon be demolished following a funding deal between the WMCA and Sandwell Council