UK
'Khalistan Zindabad' resounds at departed leader's funeral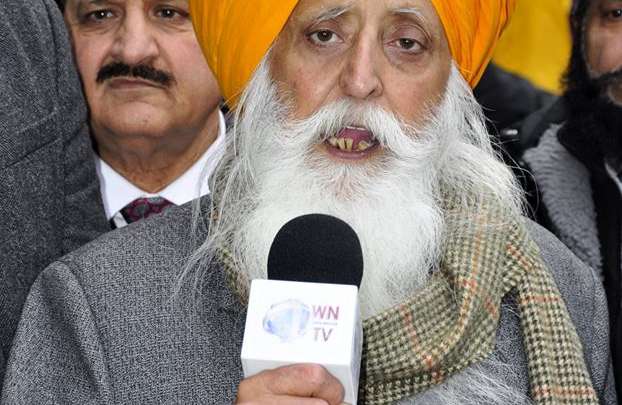 Sikh Nationalist Manmohan Singh Khalsa Passes Away
London, 26 November 2017. Manmohan Singh Khalsa, the veteran Sikh leader who played a significant role in creating friendship between the Sikhs and Muslims, passed away this week following a long period of health problems. Mourners from the Sikh, Kashmiri and other communities attended his funeral on Saturday 25 November and paid tribute to his decades of service to numerous causes – in particular this commitment to the establishment of an independent Sikh state of Khalistan in Indian-occupied Punjab. In a fitting tribute, 'Khalistan Zindabad' slogans were enthusiastically raised by mourners at the funeral as the late leader's body arrived in a horse drawn carriage draped in Khalistan flags.
As a founder member of Dal Khalsa, a prominent Sikh group that has campaigned internationally for Khalistan, Manmohan Singh was forced to leave India following fabricated and politically motivated charges against him. Since his arrival in the UK in the early 1980s, where he lived as a refugee, he became a leading advocate for the Sikh freedom struggle, working alongside other Sikh organisations. Amrik Singh Sahota, OBE, President of the Council of Khalistan, as well as a host of other Sikh leaders recalled his endless energy and paid tribute to his unwavering commitment to the freedom struggle.
Manmohan Singh's work in helping set up the Pakistan Gurdwara Management Committee led to a great improvement in the maintenance and functioning of historical Sikh shrines in Pakistan, including Nankana Sahib, the birth place of Sri Guru Nanak Dev Ji. Lord Nazir Ahmed, Chair of Parliamentarians for National Self-Determination (PNSD), attending the funeral along with several leading Kashmir leaders, spoke highly of his role and pledged to help set up a memorial to Manmohan Singh's work at Nankana Sahib.
Nazir Lodhi, who led the World Muslim Sikh Federation along with Manmohan Singh, also paid his respects to a respected colleague and dear friend.
Muhammad Ghalib and Fahim Kayani of Tehreeke Kashmir, speaking at the final part of the funeral arrangements at Singh Sabha Gurdwara Southall, expressed their admiration for Manmohan Singh's single-minded commitment to the Sikh nation's struggle for self-determination.  Nazir Ahmed Qureshi spoke on the occasion of his memories of a tireless campaigner who exposed Indian atrocities including genocide and the suppression of minorities.
Gurcharan Singh, who worked most closely with Manmohan Singh over recent years, recalled that Manmohan Singh recently proclaimed he preferred to die a rebel than to accept colonial Brahmanical rule that espoused the caste system and other concepts that are the anti-thesis of Sikh thought. The best way of honouring Manmohan Singh's memory would be to liberate the Sikh homeland from fascist 'Hindutva' control which, in any event, he said was the foremost wish of any true Sikh.
Other Sikh leaders that addressed the gathering included Joga Singh,  Gurdev Singh Chohan, Kuldeep Singh Chaheru, Dr Gurdeep Singh Jagbeer. A condolence message from Gajinder Singh, another exiled Dal Khalsa founder member, was delivered by his daughter. With the hearty endorsement of the congregation, she again raised the slogan of 'Khalistan Zindabad'.
Expressing great sadness on the passing of a leading light in the freedom movement, Ranjit Singh Srai, Adminstrative Secretary of PNSD, told the media that Manmohan Singh would have wanted Sikhs and Kashmiris to act in concert and to redouble their efforts so that internationally recognised right of self-determination could be peaceably realised in their homelands. Observers of the region will be aware  of India's official refusal to accept that right (enshrined in Article 1 of the 1966 Covenants on Civil and Political Rights), applies to Punjab, Kashmir and other regions it controls. That unlawful position has led directly to decades of death, destruction and misery in the affected regions. He took the opportunity to also congratulate Lord Ahmed for raising this outlandish Indian position in the House of Lords this earlier this week – in particular by asking the UK government to oppose India's unworthy attempts to secure a permanent seat at the UN Security Council, on the grounds that a state that openly refuses to accept international law should never be trusted to uphold international order. Lord Ahmed also raised concerns with the UK government this week over allegations of torture of Sikh prisoners, including UK national Jagtar Singh Johal. These issues, according to Ranjit Singh, go to the very heart of Manmohan Singh's passionate work on behalf of the Sikh nation.
Harpreet Singh, Manmohan Singh's son, thanked all those who had offered the family their condolences and spoke of the great emotional support from well-wishers at the funeral. The congregation prayed, in accordance with Sikh tradition, that the departed soul be given peace at the feet of the Almighty.