Politics
Saghar terms ED authorities' dossier against Shah as a cock and bull story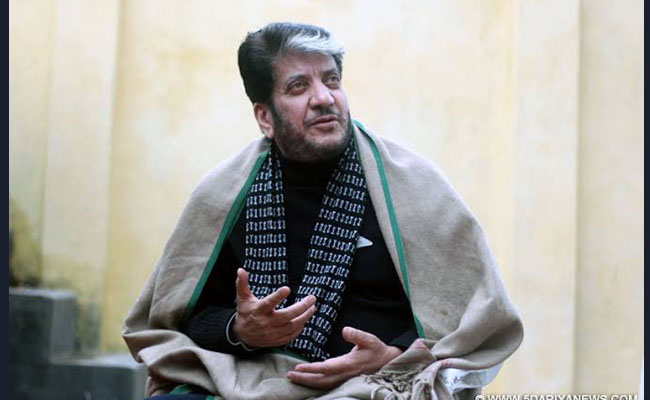 Islamabad: Terming Enforce Department's allegations against the incarcerated party chairman Shabir Ahmed Shah as a cock and bull story the acting chairman Democratic Freedom Party (DFP) Mehmood Ahmed Saghar has said that ED authorities since long have been using arrests, house detentions as a weapon of war to cow down pro-freedom leaders besides suppressing the voice of dissent in the disputed territory of Jammu and Kashmir.
Commenting on the ED authorities' refusal of bail to Shah, the DFP leader in a statement issued here on Wednesday said, "Enforce Directorate (ED) that is entirely working on whims and fancies of New Delhi has been victimizing Shah and other leaders just for raising their voice for the voiceless and advocating for a just settlement of Kashmir dispute in line with the universally accepted principle of right to self-determination".
Terming Shah's illegal detention as sheer vengeance, he said that the ED authorities have miserably failed to provide any substantial evidence against the DFP chairman and nobody believes in its cock and bull story that is widely exaggerated and totally fabricated. "The allegations levelled against the DFP chairman are part of the Indian secret agencies sponsored vilification campaign to demonize the resistance leadership", Saghar maintained.
Citing DFP president Shabir Ahmed Shah's decades' long battle against India's illegal occupation Saghar said that Shah has spent more than half of his life in Indian jails. Terming Indian authorities' act as a flagrant violation of basic human rights he said that such tactics would not deter Shah and other Hurriyat leaders from pursuing the collective cause for which the people of Kashmir have rendered huge sacrifices.
"India must bear in mind the fact that Kashmiris could not be cowed down or coerced into submission", he said.
Describing his (Shah's) detention as a flagrant violation of basic human rights, Saghar said that India that keeps harping on high values of democracy must realize the fact that choking space for political dissent and depriving people of their fundamental human rights was against the true spirit of democracy and in contravention of international law.