UK
Sardar Ayaz Sadiq, Speaker National Assembly meets Lord Speaker Baroness D'Souza in London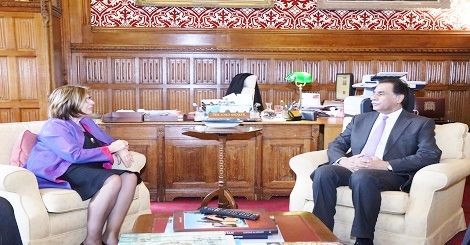 The Speaker, in his meeting, expressed satisfaction on the existing level of
cooperation between the Parliaments of the two countries, and emphasized on
further enhancing parliamentary exchanges through exchange visits, seminars and
conferences. Apprising Baroness D'Souza on the parliamentary best practices, the
Speaker briefed her on the functioning of the various Committees in the National
Assembly of Pakistan.

The Speaker also raised the issue of recent escalation of violence in the Indian
Occupied Kashmir (IOK), expressing serious concern on the killing of innocent
Kashmiris by the Indian forces. He sought the Lord Speaker's good offices in
bringing an end to the human rights violations in the IOK.
Offering condolences on the tragic murder of Labour MP Jo Cox, the Speaker
emphasized the need for countering the extremist narrative spreading across the
world including Europe. He said that the international community must respond
collectively to this threat. He also updated the Lord Speaker on the improved
security and economic situation in Pakistan.

The Lord Speaker welcomed the growing cooperation between the two Parliaments.
She agreed on enhancing parliamentary cooperation with particular focus to
empower women and young members of the Parliament. She also appreciated the
steps taken by the Government of Pakistan to consolidate democracy and assured
UK's support to the democratic institutions in Pakistan.
The Speaker was accompanied in the meeting by H.E. Syed Ibne Abbas, Pakistan
High Commissioner to the UK.