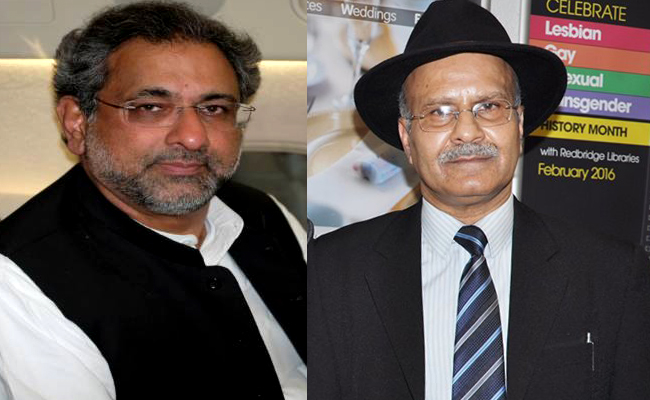 While clarifying policy of Pakistan on Kashmir, Prime Minister Shahid Khaqan Abbasi unambiguously stated, and rejected the idea of an "independent Kashmir".
However, in a reply to a question, he further said the idea of an "independent Kashmir is often floated around but has no reality. There is no support for the demand for independent Kashmir".
Prime Minister Abbasi was addressing a conference on 'Future of Pakistan 2017′ held at the London School of Economics' South Asia Centre in London. His statement angered many young citizens of Jammu and Kashmir; and some even used harsh words against him, which I personally do not approve.
I don't know why these young citizens of Jammu and Kashmir expressed their anger against Shahid Khaqan Abbasi. What he said has always been official policy of State of Pakistan. They have always opposed concept of an independent Jammu and Kashmir. Their policy of opposing an independent Jammu and Kashmir was clearly reflected in the UN Security Council; and on Pakistani suggestion, our right to independence was changed to a right of accession to India or Pakistan in the UNCIP Resolution of 5 January 1949.
Pakistani secret agencies and various government officials and members of establishment take pride in the fact that they opposed 'conspiracy' of the independent Kashmir; and 'successfully sabotaged the movement for an independent Jammu and Kashmir'.
If people of Jammu and Kashmir, especially Muslims do not have sufficient knowledge or sense to understand what Pakistan has done to Jammu and Kashmir dispute, and how they continue to manipulate sentiments of people and the situation to advance a Pakistani agenda then that is not fault of Pakistan.
The Pakistani establishment knows that religion is a powerful weapon. It is this weapon which helped to divide India and establish Pakistan. Religion continues to play a crucial role in politics of the Indian Sub – Continent. This weapon of religion has helped the establishment to widen the gulf between India and Pakistan; and ensure there is no peace and stability in the region.
The establishment has mastered the art of using religion to divide people, fool them and advance their agenda. They know how they have fooled people of Jammu and Kashmir for the past 70 years. If anyone tells the people that Pakistani establishment is not sincere with the cause of Jammu and Kashmir, and that their policy on Jammu and Kashmir is imperialistic in nature, they activate their brigade of foot soldiers
File image of Pakistan prime minister Shahid Khaqan Abbasi. Reuters
I appreciate honesty of Mr Shahid Khaqan Abbasi on issue of Jammu and Kashmir dispute. He has openly acknowledged that Pakistan will not accept an independent Kashmir. This also is an acknowledgment that Pakistani governments are fooling people in name of self-determination, because we people of Jammu and Kashmir do not have a right of self-determination available under the UN Resolutions.
What we have is a right of accession. People of Jammu and Kashmir can decide, when and if, plebiscite take place, if they want to become part of India or part of Pakistan. This right of accession was presented to the people of Jammu and Kashmir as a 'right of self-determination'; and sadly, many people accepted what was presented by the government of Pakistan.
On the other hand, in November 2017, Pakistan presented a resolution on self – determination in the General Assembly, which was accepted unanimously, 'reaffirming that the universal realisation of the right of peoples to self-determination was a fundamental condition for the effective guarantee and observance of human rights'. 1
At the time of introducing the resolution in the third Committee of the General Assembly, Ms Maleeha Lodhi, Pakistan's Ambassador said, 'self-determination had provided hope to people in their struggle against foreign occupation, a right that had been upheld by all major summits of the United Nations, Non-Aligned Movement and Organisation of Islamic Cooperation (OIC)'. 2
If you read carefully Pakistani government seems to be very concerned about fundamental rights of the oppressed people, and against their struggle against foreign occupation; but boldly deny the same rights to the people of Gilgit Baltistan and Pakistani Administered Jammu and Kashmir.
A Pakistani Professor Moonis Ahmar seems to be more honest and understanding. In his article, published in Pakistan, he writes:
Kashmiris are the real stakeholders in the age-old conflict between India and Pakistan because of the two main reasons. First, millions of Kashmiris on both sides of the fence have enormously suffered in the last seven decades because of armed conflict between India and Pakistan and the ruthlessness of the Indian security forces particularly since 1990. Since they are the sufferers of the conflict, it is their legitimate right to be included in any process which aims to seek normalcy and restore peace in the region of J&K…The identity of Jammu & Kashmir requires that it should have a separate state managed fairly by the representatives of the five regions of J&K while having peaceful relations with their neighbours — India, Pakistan and China. 3
1. Dawn, November 18th, 2017
3. Kashmiris are the real stakeholders, Moonis Ahmar, Professor of International Relations at the University of Karachi. Published in Daily Times, November 24th 2017.
Writer is a renowned writer and author of many books. He is also a senior leader of UKPNP and Chairman South Asia Watch, London. Email: Drshabirchoudhry@gmail.com Twitter: @Drshabir