UK
Pakistan-UK higher education ties to strengthen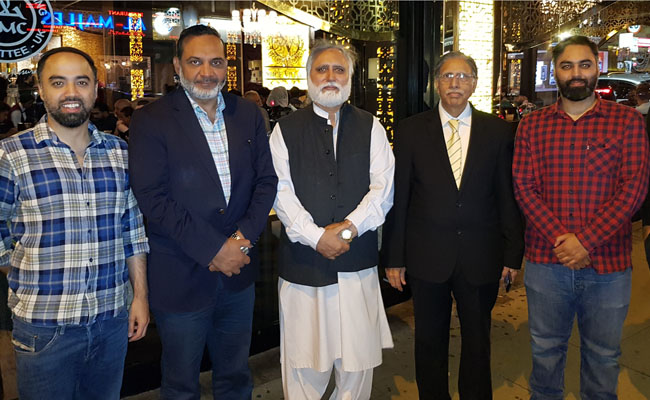 A meeting between senior Pakistani and British Pakistani educationists took place earlier to exchange ideas on strengthening ties between the UK and Pakistani higher education sector. Toaha Qureshi MBE CEO School of Economics and Law (SOEL), Rear Admiral Dr. Nassar Ikram HI (M) SI (M) Pro-Rector National University of Science and Technology (NUST), Justice Retd. Dr Qazi Khalid Ali Vice Chancellor SZAB University of Law (SZABUL), Saad Qureshi Dean Sound and Audio Engineering Institute (SAE) and Umar Mahmood Director Admissions School of Economics and Law (SOEL), Qazi Atif Ali and Zahid Yasin.
According to Toaha Qureshi MBE, Pakistani higher education institutions should build bridges with their counterparts in the UK to share best practices and create partnerships in mutually beneficial areas. He urged strongly for collaboration in areas of law, business, technology and healthcare between the two countries and said that British High Commission and Deputy British High Commission in Karachi should be engaged for this endeavour. The future of education lies in dual degrees and online education through the use of Virtual Learning Environments, he added. Mr. Qureshi MBE shared the contribution made by School of Economics and Law to Pakistani institutions, particularly the legendary Bahauddin Zakariya University (BZU) in Multan, where 7 partnerships with UK universities were initiated and forged through the leadership of School of Economics and Law. These partnerships included scholarships for Pakistani students, employment opportunities, dual degrees and more. He said that tuition fees in the UK were increasing for both UK and foreign students and said scholarships have been an important element in supporting students from deprived backgrounds to achieve their educational goals. He concluded by underscoring the value of foreign qualified lecturers to provide a global outlook given the increasing internationalisation in trade and the like.
Rear Admiral Dr Nassar Ikram said that the NUST Institute of Peace & Conflict Studies would benefit greatly from the partnership with UK academics in the area of counter radicalisation and counter extremism. He further said that NUST had developed strong international linkages with foreign universities and institutions of repute in line with its strategic aim of internationalisation. He added that NUST had so far developed linkages with approximately 102 international universities and organizations reaching around 29 different countries. Rear Admiral Dr Nassar Ikram welcomed all potential linkages with universities in the UK and said that the Middlesex University Chancellor had visited a few years earlier to develop linkages.
Justice Retd. Qazi Khalid lauded efforts by Toaha Qureshi MBE for his sustained efforts to support SZAB University of Law in creating partnerships with British universities such Bucks New University and providing much-needed scholarships for the SZAB University of Law academic staff to complete their postgraduate diplomas in International Commercial Law. He appreciated that as a Pakistani expat Mr Qureshi MBE had provided over £2 million in scholarships to students across the world, a worthy initiative benefiting Pakistani students. He added that he was leading a consortium of Karachi based higher education institutions that would soon gain a partnership with UK based Northampton University, which has been in the works for over 12 months. Part of the agreement was to give students a reduced tuition fee to support their educational ambitions. Justice Retd. Qazi Khalid informed that Pakistan Higher Education Commission and Sindh Higher Education Commission were supporting the partnership initiative, providing their assistance where needed.
Saad Qureshi said that he had seen an increase in demand in the sound and audio engineering industry, which includes cinematic productions, in the black and minority ethnic communities. His institute, SAE, has 54 campuses worldwide with 4 of them being in the UK. As dean, Saad Qureshi insisted that the rapid developments in technology and thirst for better quality was a driving force in the demand. He urged Pakistani and British institutions to capitalise on this demand. He said that courses such as games programming, animation and web development have become more attractive for young Pakistanis because major companies like Walt Disney have used Pakistani animators in movies such as Maleficent, Life of Pi and Frozen. He also said that he was proud of SAE Institute alumni Saad Hayat who had made major strides in the Pakistani music scene. He concluded by saying that the youth, particularly being tech savvy in the current climate, would benefit from collaborations.
Umar Mahmood pointed out that School of Economics and Law had hosted a number of Pakistani institutions and organisations from a cross section of society with a record number of scholarships awarded to Pakistanis. He said that scholarships had been awarded to people from all backgrounds, including Government of Sindh, Government of Punjab, Government of Balochistan, Government of Khyber Pakhtunkhwa, churches of Pakistan, Wifaq ul Madaris, journalist unions, NGOs, students from poor backgrounds and more. Umar Mahmood said that he had established the faith-based scholarship fund to promote interfaith harmony, broaden the horizons of faith groups and foster better relations, particularly between Muslims and Christians. He recalled the visit of senior KPK officials Minister for Elementary and Secondary Education Muhammad Atif Khan and Minister for Agriculture and IT Shahram Tarakai where a memorandum of understanding was signed for educational development programmes. As an institutional facilitator for educational oversight, he said that Pakistani institutions must keep a keen focus on the quality of its offerings to ensure that they are able to attract the best of the best.  He said that the partnership with SZAB University of Law was fruitful and a flying faculty to Pakistan was appreciated by the students. Universities should make international visits through their respective high commissions internationally to develop bonds, he concluded.