UK
Pakistan Army Cadet graduates at Royal Military Academy Sandhurst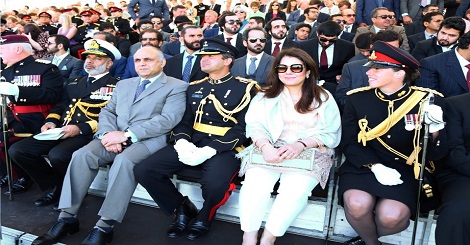 The 12th of August 2016 marked another glorious day in Pakistan and United Kingdom relations. Officer Cadet Ammad Aheer graduated after having
completed his one year training at the Royal Military Academy Sandhurst. A proud moment for him and his family!
A son of an Army officer, Officer Cadet now Second Lieutenant Aheer will soon join his regiment to serve Pakistan.
The day was even more special when Major Uqbah Hadeed Malik, the first ever Pakistani Officer to be training the British Armed Forces feeder
institution witnessed his cadets march into their final term in front of dignitaries and the Sovereign's representative, Deputy Supreme Allied
Commander Europe General Bradshaw. A feat unprecedented, as Major Uqbah Hadeed Malik is the first ever Muslim since British Army's inception in 1741 to have commanded and instructed a regular Commissioning Course. He is also a Sword of Honour holder from the same institution in 2007.
H.E. Syed Ibne Abbas, Pakistan High Commissioner to the UK together with his spouse was invited to see Officer Cadet Aheer become an officer and
Major Uqbah's platoon promote to final term. The High Commissioner commended both the officers for flying the Pakistani flag high and cementing the institutional relations between the two countries.