UK
I need no certificate of patriotism from occupiers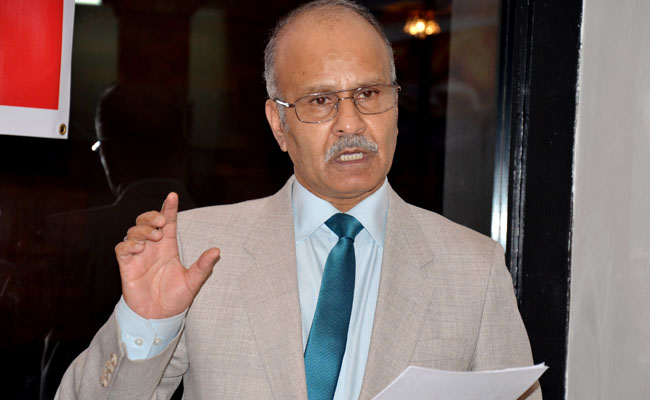 Written By: Dr Shabir Choudhry
Certificates of patriotism were being awarded in London; and despite the advice of a well-wisher, I, once again, decided not to join them.
As the month of February starts, nationalists of Jammu and Kashmir, especially from Pakistani Administered Kashmir passionately use Facebook to post their views and quotes related to Maqbool Butt who was hanged in Tihar Jail, Delhi on 11th of this month in 1984. Some use foul language against India and reiterate their commitment to continue their struggle to liberate Kashmir in accordance with the struggle of Maqbool Butt.
Some enthusiasts naively believe that by use of foul language against India; and against those who do not share their ideology they are serving interests of Jammu and Kashmir and Pakistan. Some zealously post various wise and unwise views on Facebook to exhibit their true feelings, as if that will frighten India and New Delhi will grant them independence.
This year 11th February was rather different, as pro-Pakistan Kashmiris and some Pakistanis were also very active. Surprisingly they also wanted to pay tribute to Maqbool Butt as a hero and their leader. In the past, this lobby always propagated against Maqbool Butt and followers of an independent school of thought as 'traitors' and agents of 'India'.
It is believed that they were briefed by the Pakistani High Commission to infiltrate the nationalist parties in England and exert their control on the proceedings of the demonstration that no one can speak about the Pakistani occupied Jammu and Kashmir and Gilgit Baltistan. They also gained permission to protest outside the Indian High Commission on the same day and at the same time. In total, there were three such permissions.
About a week before the demonstration I received a phone call from a Pakistani well-wisher. He invited me to join the demonstration. Also, he complained that why I was absent on 26th January when there was a protest outside the Indian High Commission. How could you be absent when India is committing crimes against humanity in Kashmir.
I told him that it was wrong policy to protest against any country when they are celebrating their National Day. How would you feel if you were celebrating a birthday of your child, and I muster 20-30 people and protest outside your house? Your child, your wife and your guests won't be very happy with that. It will generate ill feelings and hatred. We people of Jammu and Kashmir need goodwill and better understanding of the Jammu and Kashmir dispute, and that cannot be done by promoting hatred.
He interrupted me and said, I understand that, but we have no choice apart from protesting to show that India occupies Kashmir. They are committing gross human rights violations, and they will have to stop this.
I replied I condemn all human rights abuses taking place in Jammu and Kashmir. Is Pakistan not committing human rights abuses in Balochistan, Gilgit Baltistan, in so-called Azad Kashmir, in FATA and in other places. You know Pakistan has cancelled my ID card which affects my fundamental rights. I could not travel with a dead body of my father. You know all this; I have not seen you protesting against what Pakistan is doing.
Your concern about human rights abuses is selective. It shows you are advancing some agenda. If a protest has to be made on the National Day of an occupier, then we have three countries which occupy us. I can't protest against India on 15th August and sit at home or join celebrations on 14th August which is Pakistan's National Day. As a true nationalist, I will have to protest on national days of all three countries; otherwise, I will be seen as a warrior of Islamabad advancing Pakistan's agenda in name of Azadi or right of self- determination.
Remember, the international community is not fool. Because of wrong policies, this struggle is seen as India Pakistan struggle or a proxy war. We people are suffering on both sides of the divide because of this prolonged conflict which sadly is taken as India Pakistan dispute. We want suffering of the people to end, and that cannot be done by promoting policies of one occupier or condemning action of one occupier which you don't like.
He repeated the old mantra I heard thousands of times: First, we need to get Azadi from Hindu India and then we can resolve issues related to Gilgit Baltistan and Azad Kashmir. I know authorities have been unjust to you, but that is because you speak against Pakistan and criticise their policies; and don't oppose India. If you change your policy – come and join us in the demonstration; and make a strong speech against India, and that will gradually change their attitude towards you. I hope after few such activities you will get your ID card and other matters will be resolved too.
I replied, the Jammu and Kashmir dispute is not religious; only Pakistan and their supporters present it like that. Your struggle is against India because they are Hindus. We are against all occupiers. Occupation and exploitation have nothing to do with any religion. I don't hate India or Pakistan; I oppose their policies with regard to Jammu and Kashmir. You can continue with what you are doing, and I will only do what I think is correct for our struggle of united and independent Jammu and Kashmir with liberal and secular society.
I narrated this conversation to a Kashmiri nationalist friend. He was of the view that this Pakistani friend was correct. You need to change your strategy and the way you express yourself, which is full of anger and bitterness.
He further said there are so many nationalists, and Pakistan has no problem with them. I also suggest you to slow down and change your tone. Stop writing, you have done enough already. Go and attend this demonstration against India. Make a speech there and condemn India. It will be appreciated by Kashmiri nationalists as well. After some political activities like this, Pakistani establishment will surely review their policy and will issue the card. At this stage, it is important to protect your economic and political interests and social status. Under the propaganda of Pakistan and pro-Pakistan lobby, some people regard you as a traitor.
It is not possible to give an account of everything what transpired between us. I gave rationale of my struggle, and assured him that I have not done anything against the interests of Jammu and Kashmir State. It is not my responsibility to protect interests of the countries that occupy and exploit our resources. They and their stooges can call me what they like, but I am a true patriot who has not done anything against my divided motherland. We all know what India has done, but not all of us know what Pakistan has done, and how they have harmed Jammu and Kashmir dispute and killed tens of thousands of people. Their policies on Jammu and Kashmir are imperialist in nature, but they camouflaged them in name of religion and brotherhood. It is my national duty to tell people what they are doing and what is their real agenda.
In conclusion, I said, Pakistan can issue certificates of patriotism in London and elsewhere. True nationalists of Jammu and Kashmir will discard them. I have struggled for united and independent Jammu and Kashmir since 1973; and now that I am playing my last inning, I cannot change my narrative to appease an occupier. I rather die with a tag given by an occupier, and exploiter of Jammu and Kashmir than becoming their stooge or a collaborator.
The writer is Chairman of South Asia Watch, London, and author of many books on Jammu and Kashmir and terrorism.
Drshabirchoudhry@gmail.com