UK
Medical Relief International Celebrates One Year Of Helping Humanity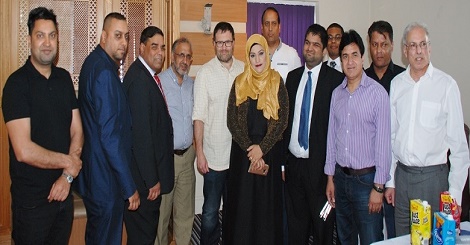 Today , Medical Relief International celebrated 1 year of helping humanity at a beautiful lunch reception held at Imrans restaurant Birmingham.The reception was held in honour of Medical Relief International's Patron Alhaj Alama Maulana Muhammad Bostan Al Qadri (RA.) Tas Hussain, CEO of the charity said in his opening address to the dignatries gathered: "On this day of celebration, we pay special thanks an heart felt tribute to Medical Relief International's spiritual guide, inspiration and motivation the great Alama Bostan Al Qadri. With out his advice, sincere prayers and expert direction we would not be where we are today now operating in 4 continents around the world."

"I would also like to thank the many businesses, politicians and media colleagues who support us unreservedly in particular Crescent Community Radio Roachdale, Salaam Radio Peterburrow and Fever FM Leeds who are responsible for every penny we have made since our inception,words can never do justice to our immense love and thanks we offer to our radio and media family." The lunch reception brought together some of the UK's most influential personalities from the media field, business sector and political arina.Medical Relief International's Patron, The Honourable Khalid Mahmood,Member Of Parliament for Birmingham Perry Barr said: "I am delighted to see Medical Relief International supporting and strengtherning
local communities and aid agencies in some of the most poverty stricken parts of the world and the amazing achievement of the organisation thus far is testimony to the hard work, dedication and passion of the team's commitment to delivering hope, changing lives." Sion Simon, Member Of The European Parliament for the West Midlands, leading candidate for the West Midlands first directly elected mayor added: "The work of Medical Relief International shows what young leaders can achieve and the work of this organisation is not just a credit to this region but to people around the world MRI stands as a beacon of inspiration of what a difference can be made to the lives of those less fortunate with the right vision, passionate team and superb outcomes that result from it's life changing work, all of which are components to success this charity clearly has."
The Grandson of Alhaj Alama Maulana Muhammad Bostan Al Qadri (RA),Medical Relief International's Communications Director Ahmad Bostan Al
Qadri talked about the charity's work to date: "Our first project was to re-build Al Shifah Hospital's Maternity and Neo-natal ward in Gaza which was a $100,000 project we successfully completed with your support. Now the unit serves over 1200 of our sisters, daughters every month. We have also provided counselling to traumatised Gazan children, sent over 3000 bottles of childrens medicine to Bab Al Hawa in Syria, cooked and fed with our own hands 40,000 refugees in Lezvos Greece and we were the first charity to ever provide Halal meals to refugees on the island. We also provided 100 blind orphans in Africa with specialist equipment worth £15,000, we have recently begun disability support initiatives in Jordan, feeding programs in
Pakistan's poorest communities and the building of essential water pumps in Sri Lanka." Other special guests Councillor Ansar Ali Khan Assistant Leader of Birmingham City Council, Labour Chief Whip Cllr Idrese, Birmingham City Council Scrutiny Chairman Councillor Zafar Iqbal JP MBE and Leroy Cohoone Youth Affairs Advisor to the Right Honourable John Spellar,Member Of Parliament for Warley and Vice-chair of the Parliamentary
Defence Committee all expressed their commendations for the charity's work thus far to the management of Medical Relief International and their unreserved support for the future.
Please continue to support Medical Relief International's life-changing as your funds are urgently needed.Please call: 0300 80 80 800 Donate and find out more information about MRI's projects online: www.medical-relief.org Keep up to date with latest updates including regular photographs and videos from our international teams via our Facebook page:facebook.com/medicalrelief.org