UK
Mayor calls for a 'Clean Air Revolution' in the West Midlands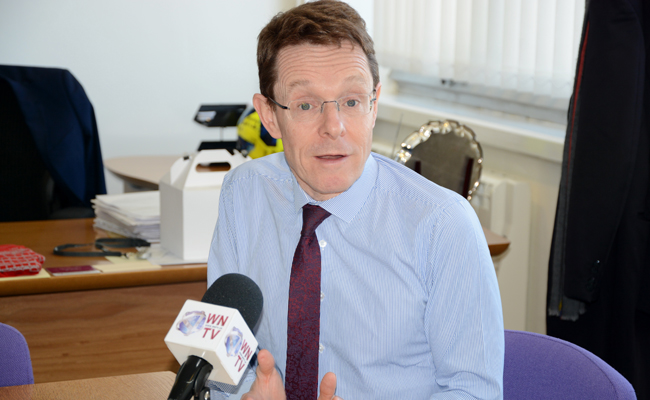 A coalition to lead the way in tackling air pollution responsible for hundreds of premature deaths every year is needed in the West Midlands, the region's mayor has said.
Mayor of the West Midlands Andy Street was speaking after a Birmingham City Council proposal for a clean air zone in the city centre was announced this week.
The scheme is still to be debated by the council but, if passed, would see the most polluting vehicles charged to enter the zone.
Mr Street said the West Midlands Combined Authority (WMCA) and the wider region had its own part to play in tackling the problem.
He said: "Air quality is a public health crisis which needs urgent action here in the West Midlands.
"1,600 premature deaths each year in the West Midlands are caused by air pollution.
"It's sadly true that some of our roads have higher levels of pollution than bus depots in the region.
"We need a 'Clean Air Revolution' to tackle this issue head-on. We have the opportunity to build a coalition of Government, councils, industry, universities and residents to lead the clean air agenda in the West Midlands, the UK and the world.
"Birmingham City Council has taken the bold step of proposing a Clean Air Zone for the city, and residents and other groups have the opportunity to make their views known in the next few weeks on how we tackle the air quality challenge in Birmingham."
The Mayor said the WMCA and the wider region has a huge part to play in making this a success and delivering cleaner air for our people to breathe by:
Ensuring bus companies upgrade their buses to newer cleaner vehicles
Delivering the public transport improvements already started, reopening rail stations and improving services, extending the Midland Metro and improving bus routes
Encouraging more people to cycle and walk in the region
Supporting the development and rollout of clean electric vehicles in the West Midlands automotive industry
Fostering the development of new clean energy technologies in businesses and universities
Developing new urban green spaces across the region
Cleaner bus engine technology and encouraging people on to public transport are key elements of the West Midlands Bus Alliance, of which the WMCA is a member.
The Mayor added that the WMCA had to work with the world-class automotive industry here in the West Midlands.
"Companies like Geely, GKN and Jaguar Land Rover have invested hundreds of millions of pounds in the development and production of electric cars, taxis and components in the West Midlands," he said.
"Our manufacturers have already developed some of the cleanest engines in the world, and they are improving all the time."
The Mayor said the Government also needed to play its part, and he was working with ministers to discuss the support needed to bring the 'Clean Air Revolution' about.
This involved:
Funding electric vehicle charging infrastructure, upgrading bus engine technology and support for the scrappage of older vehicles
Helping cities and regions to invest in better public transport and new cycling & walking infrastructure
Providing Local Industrial Strategy funding to support the development of new electric and autonomous vehicles in the West Midlands
He said: "Air quality and pollution affect us all. We all have a part to play in overcoming this challenge and I will work with Birmingham City Council and the rest of the region to tackle the issue."