UK
Kashmiris and Sikhs Condemn India as a Sham Democracy and a Failed State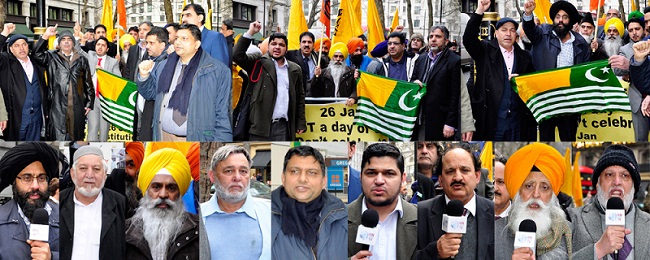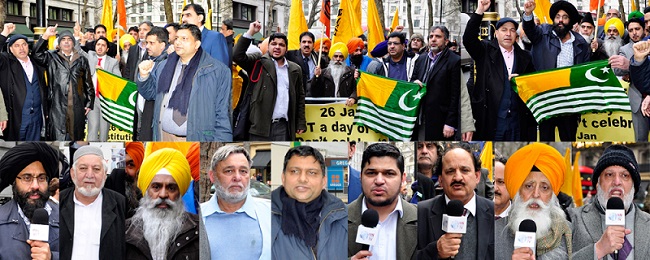 London
: An array of leading Kashmiri and Sikh organisations came together in an impressive joint demonstration outside India's High Commission in London on India's Republic Day. Protesters came from around the UK to hit a strident note of opposition to the continuing denial of basic human rights as well as the right of self-determination in Indian controlled Punjab and Kashmir. Pledging to maintain their struggle for freedom, they called for the perpetrators of mass human rights abuses by Indian forces to be punished in an international tribunal as the Indian judicial system has become a mute spectator when it comes to atrocities against minorities. Today was, they said, a 'black day' for their nations as the Indian constitution merely formalized Indian colonial control over their respective homelands.
They were joined by Lord Nazir Ahmed, Chair of 'Parliamentarians for National Self-determination', who rubbished India's claims to be a true democracy; instead he described it as a 'Banana Republic' whose polity works only for the Hindu majority. He castigated right wing Hindutva forces, now openly backed by a BJP central government, who he said are targeting Christians, Sikhs and Muslims by violence and repression with a view to crushing their rights and very identities as religious communities. He also condemned the forceful denial of self-determination to the Sikhs and Kashmiris as nations, in their historic homelands – at the costs of tens of thousands of lives. The clear breach of UN Resolutions on Kashmir and the official rejection by India of the UN's own requirements on self-determination (set out in Article 1 of the 1966 Covenant on Human Rights) puts India in the dock as far as responsibility for those conflicts goes.
Amrik Singh Sahota, OBE (President of the Council of Khalistan) called on the international community to open its eyes and see India's sham democracy for what it is. Its transgressions against minorities has already started extend to aggression against neighboring states including Pakistan and China. The potential for a cataclysmic nuclear conflict – which would be focused on the Punjab and Kashmir regions – should be an urgent priority for the international community. He called for peaceful conflict resolution, leading to freedom in both regions, underpinned by international law.
Raja Ishaq Sabir (President of the All Parties Kashmir Coordination Committee) also urged international intervention – in the wider interests of global peace and security. Whilst he welcomed the recent debate on Kashmir in the UK's House of Commons, carrying a motion in favour of self-determination, he urged the UK Government and the new Trump administration to take effective steps to halt the Hindutva juggernaut in its tracks so that tens of millions of people in the conflict zones could finally enjoy the self-respect of independence that was meant to be the rationale behind the 1947 decolonization process.