World News
A formal submission to the UNSG & HRC by TeK and WKFM demanded the release of Kashmiri political prisoners languishing in Indian jails under false charges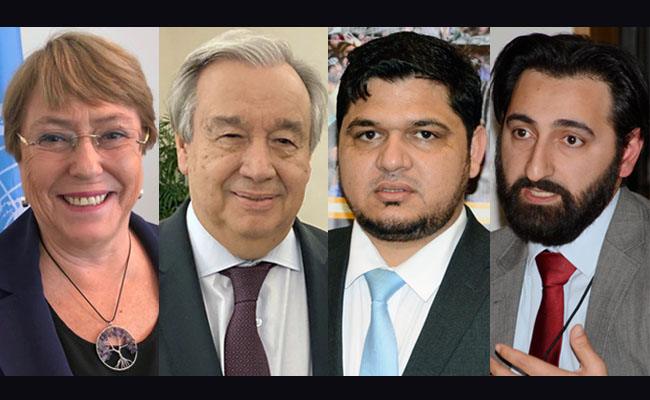 London: A formal submission to the United Nations Secretary General and Human Rights Commissioner by Tehreek-e-Kashmir and World Kashmir Freedom Movement, demanded the release of Kashmiri political prisoners languishing in Indian jails under false charges.
"It is unacceptable that in this Covid pandemic, with India facing the worst record for infections and death, that innocent Kashmiris who have been thrown into jail on trumped up charges and never face a proper judicial review are expected to continue being detained among some of the worst criminals with the Corona virus rampantly spreading among prisoners and wardens" asserted TeK President Fahim Kayani and WKFM President Muzzammil Ayyub Thakur
Further submissions were made to UN Special Procedures Mandate holders including Working Groups on Arbitrary Detention and Discrimination against Women and Girls. Special Rapporteurs also received the submissions, namely Situation of Human Rights Defenders, Rights of Indigenous Peoples, Freedom of Religion or Belief, Extrajudicial, Summary or Arbitrary Executions, Promotion and Protection of the Right to Freedom of Opinion and Expression, Torture and other Cruel, Inhuman or Degrading Treatment or Punishment, Right of Everyone to the Enjoyment of the Highest Attainable Standard of Physical and Mental Health, Promotion of Truth, Justice, Reparation and Guarantees of Non-Recurrence, Negative Impact of Unilateral Coercive measures on the Enjoyment of Human Rights.
The submissions continued to urge for pressure to be put on India to specifically release Ashraf Sehrai, Asiya Andrabi, Qasim Faktoo, Masrat Alam, Shabir Shah, Ayaz Akbar and Altaf Shah among many others. "Not only are they political prisoners and prisoners of conscience, they have severe health conditions that are not attended to. Furthermore, with rise of Covid-19 infections in inmates, illegally detained Kashmiris are at serious risk of contracting the deadly virus. We will hold the Indian Government responsible for the ill treatment and lack of due care that is legally to be provided to detainees. Ayaz Akbar lost his wife only days ago and could not even see his partners face one last time, nor console his family. It is unacceptable for you to be tolerant of this crass and inhumane behaviour of the Indian Government who routinely use illegal draconian laws against peaceful dissenters who oppose the illegal occupation of Indian occupied Jammu & Kashmir, the longest unresolved dispute on the UN agenda. Prolonging their detention is illegal and in contravention of international law. As is the continued detention of journalist Asif Sultan, who has been in jail for doing his job and prevented due process. He has a 3 year old child who was 6 months old when he arrested. "
Fahim Kayani and Muzzammil Ayyub Thakur concluded by offering face to face meetings with Kashmiri representatives to provide further detailed information of the situation in Indian occupied Kashmir, particularly since India illegally annexed the territory and began their settler colonial project to force demographic change.
The submissions were forwarded to the British Government, in particular to the Foreign Secretary Dominic Raab who held a meeting with UN Human Rights Chief Michelle Bachelet to discuss human rights situations in China, Myanmar and Tigray. In a cover letter, TeK and WKFM accused Mr Raab and the British Government of hypocrisy and double standards for not holding India to the same standards of Human Rights as others.
They also urged the government to halt the Hindu yatra to Kashmir where 600,000 Indians are expected to travel, terming India's decision to allow the Hindu pilgrimage as negligence, and accused the BJP of exporting and weaponising the Corona virus.