World News
Saghar bereaved over death of Shaikh Tajamul-ul-Islam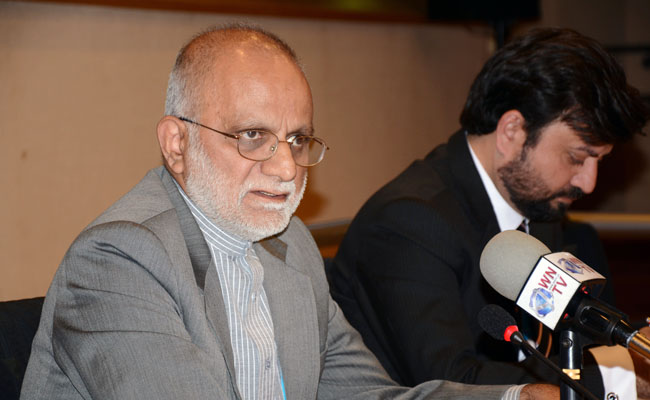 Condemns framing of charges against SAS Geelani' family under UAPA
Islamabad: Acting Chairman Jammu Kashmir Democratic Freedom Party (DFP) Mehmood Ahmed Saghar has expressed deep sense of shock over the demise of veteran Kashmiri scholar and Executive Director Kashmir Media Service Shaikh Tajamul-ul-Islam who passed away in Islamabad on Sunday.
In a condolence message the DFP leader while lauding Islam's peerless contribution to the Kashmir cause, said that the deceased scholar has significantly contributed to the Kashmir cause for the past several decades while working on political, diplomatic and journalistic fronts. "His death is indeed a big loss to the freedom movement", he said. The deceased, he said, has faced trials and tribulations and endured imprisonments for raising his voice for the voiceless Kashmiri nation.  Extending his heartfelt condolences to the bereaved family Saghar prayed to Allah almighty to rest the departed soul in eternal peace.
Meanwhile, in a separate statement the DFP spokesman condemned Indian authorities for registering a case against SAS Geelani's family members and relatives under the draconian UAPA. Terming it as a sheer frustration of the Modi led fascist regime, he said that bigotry, prejudice and vendetta were hallmarks of the communal regime that considers every Kashmiri as a potential threat to its dream of Hindu Rashtra. Referring to the Kashmiri leader's burial in the dark of night , he said that the forcible burial of Hurriyat leader under the military siege was a dark spot on the face of Indian so-called democracy.