World News
Chair of KC-EU lauds EU's parliamentary body's concerns over human rights situation in India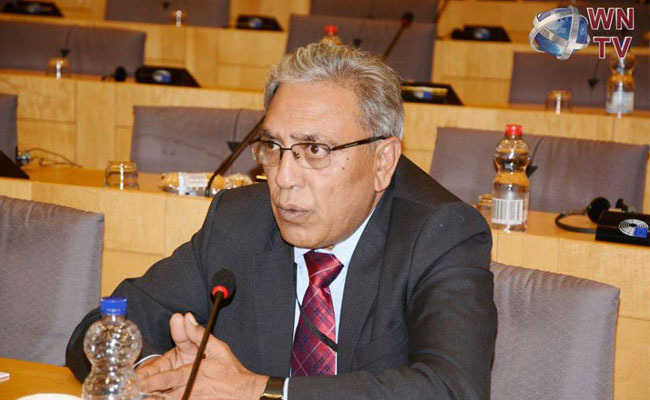 Belgium: Chairman Kashmir Council Europe (KC-EU) has praised concerns raised by European Parliament's Subcommittee on human rights over the violations of human rights of the minorities in India.
In her letter addressing Mr Amit Shah, the Indian Minister of Home Affairs, Ms Maria Arena, the Chair of the European Parliament's Subcommittee on Human Rights (DROI) has expressed grave concerns over the severe situation of human rights specially rights of the minorities in India.
Expressing concerns, she said, it is in this context that we are closely following the protection of human rights defenders in India and wish to express serious concerns about the recent arrests of Anand Teltumbde and Gautam Navlakha by the National Investigative Agency. It is particularly alarming to note that human rights defenders cannot conduct advocacy activities, notably in favor of India's poorest and most marginalized communities, without becoming subject to intimidation and harassment, but equally worrying is the fact that terrorism charges, including under the Unlawful Activities Prevention Act (UAPA), are used to silence them. As pointed out by United Nations Special Procedures, this clearly represents a violation of international human rights standards.
Letter of chair of EU's parliamentary body further said, "To date, the European Parliament has noticed that various forms of legitimate peaceful protests against laws, policies and governmental actions, including the Citizenship Amendment Act, have been portrayed as terrorist activities under this legislation, resulting in a number of arrests under this umbrella. This is notably the case for human rights activists such as Safoora Zargar, Gulfisha Fatima, Khalid Saifi, Meeran Haider, Shifa-Ur-Rehman, Dr Kafeel Khan; Asif Iqbal and Sharjeel Imam who were recently arrested by the Police."
Appreciating the initiative of Chair of EU's parliament human rights body, Ali Raza Syed said, Indian regime started violation of human rights from occupied Jammu and Kashmir for last seven decades and now entire India is witness of ruthless attitude of the Modi's government with minorities of that countries.
In her letter to Indian home minister, the EU's parliamentarian body's head said, there are also increased fears that the legislation might confer discretionary powers upon State agencies. Indeed, the vague definition of 'unlawful activities' and 'membership of terrorist organisations' could allow for wide discretion by the government in applying the law. Such a process would substantially weaken judicial oversight and the protection of civil liberties in the country. Consequently, we strongly believe that measures should be urgently taken to stop impeding and criminalising the work of human rights defenders by means of overly broad national security legislation and to respect their freedoms of association and expression. India should do much more to ensure a safe and conducive environment for civil society working in the country and consider enacting a law on the protection and promotion of human rights defenders.
Chairman KC-EU said, International community should also pay attention over the situation in Jammu and Kashmir where at the moment India under the garb of coronavirus further spreads its repressions against the innocent people of this occupied land.
Ali Raza Syed also praised EU's demand of release of the prisoners of conscience as Ms Arena asked India, "the unprecedented situation of the COVID-19 pandemic has led to repeated calls by the United Nations for the immediate release of prisoners of conscience as part of overall efforts to contain the outbreak."
Chairman Kashmir Council Europe (KC-EU) Ali Raza Syed further said that we shall raise our voice against the atrocities of brutal Indian forces in Indian occupied Kashmir (IOK).
He said, we shall raise this issue at the international forums and in the first stage, we have written letters to the higher authorities of European Union, United Nation and international human rights organizations and this trend will be continued.
He further said, as reports of the international human rights bodies in the recent years and even above mentioned letter of chair of human rights body of EU's parliament are indications of close reviewing the situation by the international community, it is not far that Indian authorities involved in Kashmiris' mascaras would face justice at the international courts of justice. If the Nazis can face the justice after world war II, why not Indian authorities can face such judicial trial.
Chairman KC-EU Ali Raza Syed determined that we shall continue our diplomatic struggle until the justice for the people of Jammu and Kashmir.