World News
Kashmir and Pakistan are intertwined together, Chairman Kashmir Committee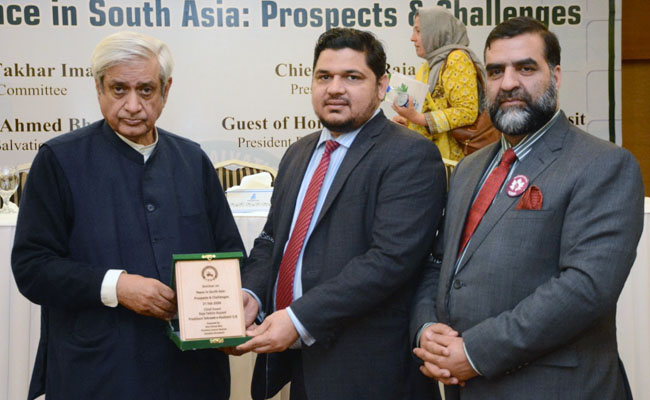 Islamabad: 21, Feb 2020: Chairman Kashmir Committee Syed Fakhr Imam has said that Kashmir and Pakistan are intertwined together, and can not ignore Kashmir for even a moment. Protests against Modi are spreading throughout India as a result of India's extremist policies. Modi has buried democratic values. Peace is not possible in the region without resolving the Kashmir issue by implementing its UN resolution on Kashmir.
He expressed these views while addressing the seminar: Peace in South Asia: Prospects & Challenges, organised by Jammu Kashmir Salvation Movement today at Islamabad.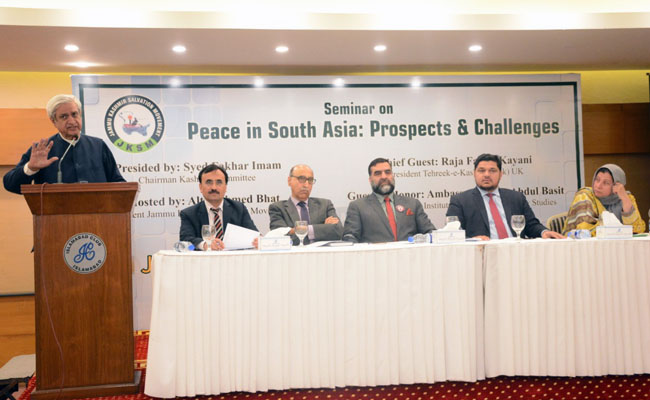 President Tehreek e Kashmir UK Fahim Kayani during his address said that India has shown to the world that it is the worst form of democracy by eliminating Article 370 and 35A. This struggle is in line with the UN Chartered Kashmiris demand their birthright till Kashmiris get Freedom, and it will be continued until Kashmir is liberated from India.
Tehreek-e-Kashmir UK, Kashmiri and Pakistani Diaspora in UK and Europe are playing their part in Britain and other countries. Pakistan should end trade and diplomatic relations with India following India's extremist policies. While providing a brief report about the struggle of Tehreek e Kashmir (TeK) UK Raja Fahim Kayani said that TEK UK is playing its vital role in the diplomatic and international frontiers of the UK movement. There have been protests in which thousands of people have participated against Indian atrocities and in favour of the besieged people of Indian occupied Jammu and Kashmir.Some people are disappointed that India is a big country and its economy is strong, but I do not accept this position. We must build confidence in ourselves. We must go ahead with confidence. The world wants to hear now. The world talks about India with extremist policies. International Newspapers, Magazines and channels are now exposing Indian Fascist government to the world.
President TEK Further said that Pakistan should give a roadmap to Kashmiris and Pakistanis residing abroad so that we could follow the lead and struggle in an organised manner. While the situations are changed now, people show their concern and commitment for Kashmir cause, Thousands of people come out for protests against India. Kayani added,
Former Pakistan Ambassador Abdul Basit, Hurriyat leader Ms Shamim Shawl and other leaders addressed the seminar, while the seminar included diplomats from different countries, leaders of the all-party Hurriyat Conference, Mohammad Khateeb, Sheikh Abdul Mateen, Malik Abdul Majid, Manzoorulhaq Butt, Shafiq Butt, Senior Journalist Aqeel Ahmed Tareen, Ghulam Mohiuddin Dar, Raja Bashir Usmani, Atif Bukhari, Engineer Hamad Mir, Sardar Azim, Amjad Mir, Arif Qureshi, and Ahtisham Mir were present at the occasion. While the programme was moderated by Abdullah Khan.
President Jammu Kashmir Salvation Movement Altaf Ahmed Bhat -host of the seminar- during his address said that There is talk of peace in the world today that all disputes are being resolved through peace. while 72 years ago in 1948, the UN after the ceasefire gave us hope that there would poll in Kashmir – and that peace and negotiations would be talked about at the moment, but the Kashmiri nation has been betrayed for 72 years. And I don't understand negotiations and resolution of the dispute through dialogue but the Kashmiri people have been betrayed for 72 years. India does not understand peace and negotiations.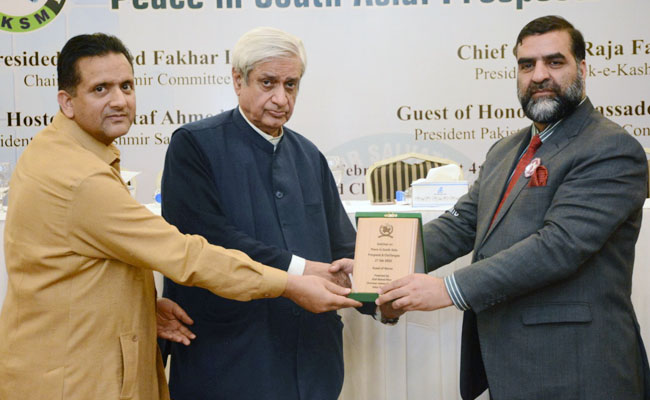 If the people of Azad Kashmir did not face the Indian army in 1947, AJK would not have been free today – we followed the peaceful way till 1987 -but India forced through oppression, suppression, killings, and inhumane torture to raise guns.
Now there has been Intifada movement since 2008 millions of demand polls – India has created a war-torn atmosphere in the region and the war that will now lead to the destruction of world peace.
Altaf Ahmed Bhat further said that India understands the language of power and does not understand any other language. He said that Modi is carrying out extremist policies. All the gates of freedom and peace pass through Srinagar. We should not have any peace that costs Kashmir.We will not accept any solution which is contrary to the wishes of Kashmiris.
Bhat while describing the hegemonic agenda of India under Modi, Amit Shah, and Ajit Doval said that India wants to become the greater hegemony in South Asia and trying to engulf Kashmir, But Without a solution to the Kashmir issue, the dream of peace in the region could never be achieved. Kashmir is a Nuclear Flashpoint between Pakistan and India, and the world recognises it.
President JKSM and host of the Seminar Altaf Ahmed Bhat thanked all the distinguished guests including Chairman Kashmir Committee Syed Fakhr Imam, former Ambassador Abdul Basit, President Tehreek e Kashmir UK Raja Fahim Kayani.
Ambassador (R) Abdul Basit said, "India is basically a country that has taken a break from the first day and has adopted a disobedient policy."
Kashmir is a contentious area The UN resolutions testify that the future of Kashmir is yet to be decided. India has acknowledged itself in the UN and promised that Kashmiris will be given a chance to vote. And the UN declared that the Kashmiri people would be given the right to autonomy. He said that Pakistan has always demanded that the Kashmiris be given the right to self-determination. Pakistan is facing difficulties from India and Afghanistan, on the other hand.
India has not missed a chance to weaken Pakistan, Prime Minister Pakistan and Foreign Minister have to fulfil their responsibilities by mobilising on the current situation in Kashmir.
Telling about the current situations in Indian occupied Jammu and Kashmir Ambassador(R) Abdul Basit said that, situations are very drastic in occupied Jammu and Kashmir Food medicine is out. Pakistan should attract international human rights organisations Amnesty International and other organisations to arrange food and medicine in occupied Kashmir.
Kashmiris are struggling historically and are making everlasting sacrifices. We have to play our role for the cause of Kashmir on the diplomatic and international frontier. Kashmiris want nothing but independence. The war is not in the interest of the two countries and India understands this too but in practice, India is not ready to come to Kashmir's solution.
Addressing the seminar Hurriyat leader Abdul Majid Malik said that people of Jammu and Kashmir have offered more than 500,000 martyrs for independence. Great sacrifices have been made in the history of mankind by Kashmiris. India has eliminated Article 370 and 35 A and continuously planning to bring about demographic changes in Indian occupied Jammu Kashmir and Ladakh.
Leader of All Parties Hurriyat Conference MS Shamim Shawl said that Whoever wants to see the real face of India should visit Indian Gujarat and the occupied Jammu and Kashmir where India is committing state terrorism and grave human rights violations. The government of Pakistan will have to play a vital role with regard to Kashmir. India is oppression in occupied Kashmir, violating the rights of children, orphans and women. Women are turned into half widows. While the backbone of Kashmir that is tourism, Fruits, and Handicraft are being destroyed by India to paralyse the besieged people of Indian occupied Jammu and Kashmir.