World News
JKNF terms death of Sehrai in prion as a clear case of custodial murder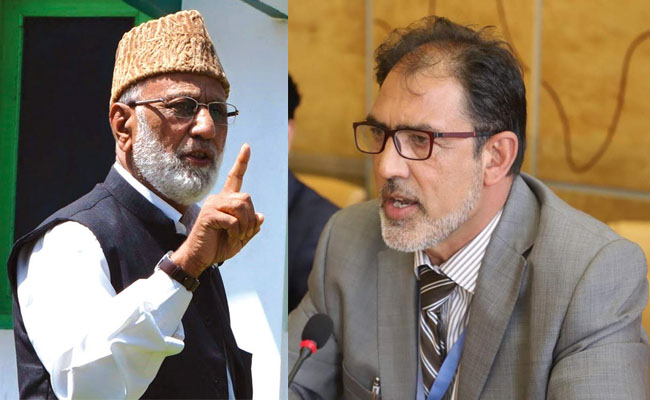 Demands an independent & international probe into the incident
Srinagar/Islamabad: Senior vice chairman Jammu and Kashmir National Front (JKNF) Altaf Hussain Wani while expressing deep sense of shock and anguish over the sad demise of prominent Kashmiri liberation leader and Tehreek-e-Hurriyat Chairman Muhammad Ashraf Sehrai has said that the deceased leader's tragic death in prison was as a clear case of custodial killing.
In a statement issued here on Monday, Mr. Wani while hailing Sehrai' and his family's supreme sacrifices and peerless contribution to the noble cause of freedom said that Muhammad Ashraf Sehrai was a staunch and committed freedom fighter who devoted his entire life for the Kashmiris' struggle for right of self-determination. "Sehrai was a man of great integrity and honesty", he said adding that down rightness was the hallmark of his simple but inspiring personality. "His death is indeed a big loss for the movement; May Allah rest the departed soul in eternal peace and grant him highest place in Jannat", the statement added. Referring to his life long struggle Mr. Wani said that the THK chairman's struggle spanning over several decades would continue to inspire the generations to come.
Expressing his resentment over the circumstances that led to the demise of Sehrai, the JKNF leader said that Indian fascist government led by Modi was directly responsible for his custodial death. "The deceased leader was kept in inhuman conditions and subjected to torture in the jail. Despite knowing that he was suffering from various ailments the prison authorities at Udhampur jail deprived him of medical care and right to proper treatment", he said. Demanding an independent investigation into the incident he said that Indian claims that Mr. Sehrai was COVID positive fell flat after his reports showed that he had no coronavirus infection. "His death is a clear case of custodial killing; Indian government has been using COVID-19 as a tool to punish every Kashmiri who refuses to accept Indian dominance in the region", he added.
Meanwhile, in a separate statement the JKNF spokesman while condoling the demise of the THK chairman extended heartfelt condolences to the bereaved family. In view of the rising wave of coronavirus in the valley and the restrictions imposed by the Indian occupation authorities the spokesman has appalled the Kashmiri masses to attend funeral procession of Muhammad Ashraf Sehrai and funerals in absentia in their respective areas. The spokesman took strong exception to the occupation authorities' move to impose restrictions to prevent mammoth gathering on the funeral of Muhammad Ashraf Sehrai. "Imposing undue restrictions and barring close relatives to participate in the funeral prayers and to have a last glimpse of their beloved one constitute a serious violation of human rights", he said.
Reiterating his party's call for release of Kashmiri prisoners, the spokesman expressed deep concern over the plight of Kashmiri prisoners lodged in Tihar jail where a fast spreading coronavirus has claimed many lives in recent couple of months.