Politics
Truce at LoC won't resolve Kashmir issue: AJK president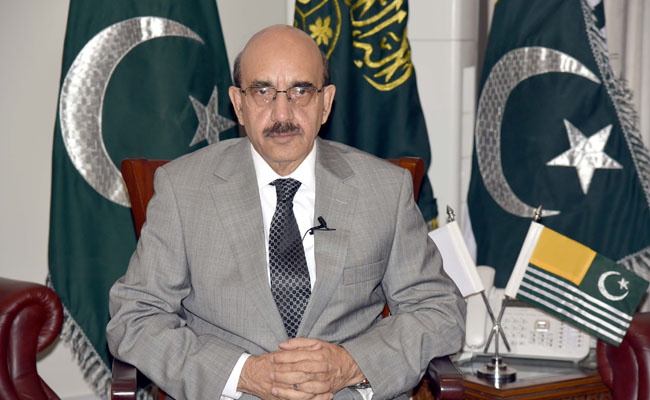 ISLAMABAD, May 3: The AJK President Sardar Masood Khan has said that ceasefire at the Line of Control and de–escalation of tension would neither resolve the Kashmir issue nor would peace return to the region.
"To bring peace, India must stop the massacre of the Kashmiri people and take decisive steps to grant the fundamental right of self-determination to them," he asserted.
In an interview with a Pakistani private TV channel, he said that the Kashmiris must be consulted and taken into confidence about whatever the decision is to be made about Kashmir because none other than the Kashmiri people can be sincerer to Pakistan.
He said that Modi's BJP has fulfilled its election manifesto of 2014 and 2019 by repealing article 370 and article 35-A concerning Jammu and Kashmir state, and now it would contest the next election on the basis of its so-called performance i.e. division and Indignation of occupied Kashmir. That is why he maintained, we do not see any sincerity in the offer of Indian leadership to resolve the Kashmir issue through talks.
The state president expressed the confidence that the government and the state institutions of Pakistan are fully alert to safeguard the interests of Pakistan.
Asked if Pakistan has made any change or flexibility in its long lasting stand on Kashmir, the AJK president said that India knows that it cannot influence nor can it dictate Pakistan through war. Therefore, the notion that Pakistan does not want to fight a war against India on Kashmir, is not correct, he said adding that Pakistan does not want war because it believes in resolving the issues through talks and other peaceful means instead of being engaged in war and clash.
Sardar Masood Khan said that the pressure from the international community after the August 2019 actions, had temporarily compelled India to talk about a negotiated solution to issues. He added that restoration of the article 35-A by India is not enough for confidence building. On the contrary, India would have to recognise the whole of Jammu and Kashmir as a disputed territory and would have to revive the pre-August 5, 2019  position of the state in order to pave the way for talks.
He said that the Kashmiri people will get relief only when India lifts the siege of occupied Kashmir ceases the killing spree of Kashmiri people, gives up settling Indian Hindus in Kashmir, and stops attempts to change the demography of the state. India must halt crimes against humanity and war crimes because this is not a territorial dispute between Pakistan and India but a sheer violation of international laws.
The state president said that the economic problems confronting Pakistan today has no concern with Kashmir. Replying to question about Gen Musharraf Formula to resolve Kashmir, the formula presented by former Pakistan President is complex and partly rejected by Kashmiris on both sides of the LoC.