UK
Chairman UKPNP Sardar Shaukat Ali Kashmiri speaks in International Kashmir Conference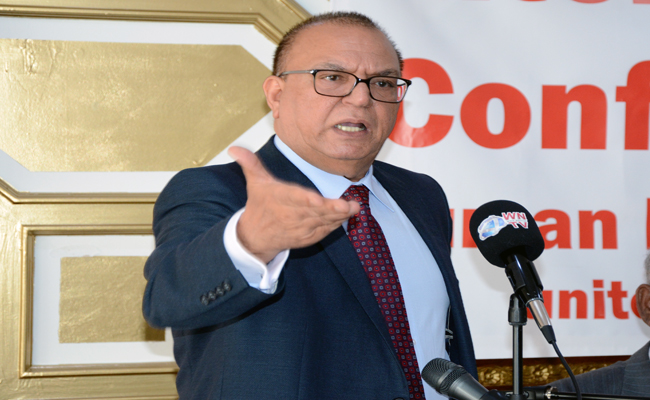 Peace, human rights and counter-terrorism.
Speech by Sardar Shaukat Ali Kashmiri
Honourable guest,
First of all, I would like to thank to Church of Scientology and other sister organizations for organizing this important International conference on Jammu & Kashmir, peace, human rights and counter-terrorism.
My special thanks to all participants and keynote speakers for your participation and valuable contribution in this conference.
I appreciate your Nobel initiative to help deprived and marginalized people of state of Jammu & Kashmir particularly people of so-called Azad Kashmir & Gilgit Baltistan.
Honourable guests,
Princely State of Jammu & Kashmir
First Anglo-Sikh war was fought between the Sikh Empire and the East India Company between 1845 and 1846, resulting in partial subjugation of the Sikh kingdom.
The British demanded payment of 15 million rupees (one and a half crore) as reparations for the cost of the war. Sikh government, at   Lahore, was unable to pay the whole of this sum immediately. Raja of Jammu Gulab Singh agreed to pay to the British government the sum of seventy Five -lacs (seven and half millions) of rupees (Nanakshahi), 5 Millions (fifty lacs) to be paid on ratification of this Treaty, and twenty-five lacs on or before the 1st of October of the current year, 1846.
The Treaty of Amritsar, signed on 16 March 1846, formalised the arrangements in the Treaty of Lahore between the British East India Company and Gulab Singh, founding father, of current State of Jammu Kashmir. Gulab Singh acquired "all the hilly or mountainous country with its dependencies situated to the eastward of the River Indus and the westward of the River Ravi including Chamba. The Treaty of Amritsar marked the beginning of Dogra rule in the state of Jammu and Kashmir and Gulab Singh became the legitimate ruler of Jammu Kashmir. From 1846 until 1947, Jammu Kashmir was a princely state in the British Empire in India and was ruled by Jamwal Dogra Dynasty. 
Partition of  British India in 1947
In 1947, partition of Indian subcontinent on the basis of religion took place, which created   Pakistan and the Republic of India In British India there were more than 580 princely states like Nepal, Sri Lanka Bhutan and Jammu and Kashmir amongst the largest of the princely states. According to the Indian Independence Act 1947 States were given options of joining either India, Pakistan or remain independent. 
Legitimate ruler of Kashmir   Maharaja Hari Singh wanted independence and to get done his aspiration he signed a standstill agreement with Pakistan. Within a few weeks Pakistan violated the Standstill Agreement of August 15, 1947 and stopped supply of essential goods to Jammu & Kashmir, effectively blockading the state. On 22nd October 1947 tribal men, backed by Pakistan, and its soldiers invaded State of Jammu and Kashmir resulted in the death of thousands of innocent people Hindus and Muslims alike, laid the seeds for disrupting the secular harmony of the state and led to the division of Jammu & Kashmir that continues till today. Thousands of innocent people lost their lives including children and senior citizens.  Women and young girls were kidnapped.
In the fall of 1947, the people of Jammu and Kashmir witnessed many tragic events. The tribal invasion was one of the most tragic. It was an earth-shattering event. It was a deep wound which is still bleeding.
It caused the first Indo-Pak war and subsequent wars that resulted in both governments spending billions of dollars on weapons, including nuclear ones that could otherwise have been spent on development.
Honorable guest,
Jammu & Kashmir conflict is not just a border dispute between India and Pakistan or China it is the matter of life and future of millions of people former princely state of Jammu & Kashmir.
Pakistani Kashmir is administered as two territories: Azad Jammu and Kashmir (AJK) and Gilgit-Baltistan (GB). Each has an elected assembly and government with limited autonomy, but they lack the parliamentary representation and other rights of Pakistani provinces, and Pakistani federal institutions have predominant influence over security, the courts, and most important policy matters. Politics within the two territories are carefully managed to promote the idea of Kashmir's eventual accession to Pakistan. Freedoms of expression and association, and any political activity deemed contrary to Pakistan's policy on Kashmir, are restricted.
I would like to share few paragraphs from human rights watchdog Freedom House Report 2018 on Azad Kashmir and Gilgit Baltistan.
https://freedomhouse.org/report/freedom-world/2018/pakistani-kashmir
Political Rights and Civil Liberties 
Both AJK and GB have locally elected executive leaders. However, the Pakistani government also controls—directly and indirectly—key executive functions, and it is not accountable to voters in the two territories.
Under AJK's 1974 interim constitution, a president elected by the Legislative Assembly serves as head of state, while the elected prime minister is the chief executive. After the 2016 elections, the new assembly elected the local leader of Pakistan's ruling Pakistan Muslim League–Nawaz (PML-N), Raja Farooq Haider, as prime minister, and Masood Khan, formerly a senior Pakistani diplomat, as president.
An AJK Council is based in Pakistan's capital, Islamabad, consisting of both Kashmiri and Pakistani officials and chaired by the Pakistani prime minister. The council holds a number of executive, legislative, and judicial powers, such as control over the appointment of superior judges and the chief election commissioner.
GB's basic law, the 2009 Gilgit-Baltistan Empowerment and Self-Governance Order (GBESGO), can only be amended by the Pakistani government. Executive functions are shared between a Pakistani-appointed governor and a chief minister chosen by the GB Legislative Assembly (GBLA). The governor signs legislation and has significant power over judicial appointments; his decisions cannot be overruled by the GBLA. After the 2015 elections in GB, Hafiz Hafeezur Rehman of the PML-N became chief minister. Later that year, the federal government installed Mir Ghazanfar Ali Khan, also of the PML-N, as governor.
A 15-member Gilgit-Baltistan Council (GBC), headed by the Pakistani prime minister and vice-chaired by the GB governor, includes six members of the GBLA and nine Pakistani parliament members appointed by the governor. The GBC retains control over strategically important subjects and key fiscal matters.
POLITICAL PLURALISM AND PARTICIPATION.
Politics are dominated in both AJK and GB by local branches of the main Pakistani parties and some local parties, such as AJK's Muslim Conference, that are closely allied with the Pakistani establishment. Small nationalist parties that are opposed to union with Pakistan are actively marginalized or barred outright from the political process. Activists accused of opposition to Pakistani rule have been subject to surveillance, harassment, and sometimes imprisonment. The interim constitution of AJK bans political parties that do not endorse the territory's eventual accession to Pakistan, and similar rules prevail in GB.
Because voters in GB and AJK cannot participate in Pakistani elections, Pakistani federal officials and entities are not democratically accountable to them. Security agencies operating in both territories are federal institutions. They work to block and suppress any parties or politicians that adopt positions deemed to conflict with Pakistani interests.
The powers of the elected chief executives in AJK and GB are limited by the fact that the Pakistani prime minister, the Pakistani minister for Kashmir Affairs and Gilgit-Baltistan, and through them the federal civil service, exercise effective control over government operations in both territories. As in Pakistan, federal military and intelligence agencies also play a powerful role in governance and policymaking.
The territories lack any meaningful fiscal autonomy, as federal taxes are imposed on both, and they receive a share of the resulting funds from the federal government. The territories' local representatives are excluded from the Pakistani bodies that negotiate interprovincial resource allocation.
FREEDOM OF EXPRESSION.
AJK and GB are subject to laws that curb freedom of expression, particularly related to the political status of the regions. Media houses need permission from the AJK Council and the federal Ministry of Kashmir Affairs and Gilgit-Baltistan to operate. A wide range of media are present and active. However, coverage of news and politics does not diverge from official Pakistani narratives, including that India's hold over the Kashmir Valley is illegitimate and all Kashmiris aspire to Pakistan accession. This compliance is achieved through a mixture of censorship, self-censorship, and harassment. A number of outlets have faced closure by authorities in recent years.
Torture and deaths in custody at the hands of security forces have been reported, especially for independence supporters and other activists. Separately, extremist groups devoted largely to attacks on Indian-administered Jammu and Kashmir operate from AJK and GB and have links with similar factions based in Pakistan and Afghanistan.
The people of AJK and GB have Pakistani national identity cards and passports. They are internationally recognized as Pakistani nationals. However, there are reports of passports being denied or not renewed for citizens suspected of questioning Pakistani control over the region. The territories' heavy military presence and the threat of shelling and other violence along the LoC restrict internal movement for civilians.
Honourable guests, 
As we know that in human history, terrorism is widely recognized as the world most famous enemy of mankind. As history itself will admit that terrorism has far-reaching and destructive effects, it is the cruelest of crimes against humanity
People of State of Jammu and Kashmir are victims of cross border state-sponsored terrorism since 1947. 
In the late 80's Pakistan gathered Jihadis and started its proxy war in Kashmir, secular progressive Kashmiris, politicians, Lawyers, professors, lecturers and Kashmiri pundits were targeted by these Jihadis.  Kashmiris lost one whole generation during Pakistan's proxy war in Kashmir and displaced thousands of Kashmiris especially pundits. Till today common people are suffering due to militancy and so-called jihad in Kashmir.
This is unfortunate that terrorists' network and infrastructure is very much intact in so-called Azad Kashmir. So-called Leaders of banned terrorists organizations are roaming freely and recruiting young Kashmiris for Holy war or Jihad in Kashmir.  Pakistan is reluctant to take action against these extremists' groups shows that she is not serious to take action against extremist and terrorists organizations and groups.
Banned terrorist groups like Lashkar-e-Taiba (LeT), Jaish-e-Mohammed (JeM), Hizbull Mujahideen and other with different names and faces fully protected and supported by state and are roaming freely in so-called Azad Kashmir. They have built their networker, collecting funds and recruiting youth for Holy war or Jihad in Kashmir valley.
Pakistani Military dictator General Musharaf in his interviews admitted that Pakistan trained funded and supported banned organizations and considered them as assets. And used them in Kashmir, Afghanistan and different parts of the world. A few months ago Pakistani retired General Amjad Shoaib in talk show with anchorperson Hamid Mir on Pakistani TV GNN suggested Kashmiri youth that light guns and AK 47 are not useful anymore in Kashmir, Kashmiris should start suicide bombing and we have seen recent suicide attack in Pulwama.
Since 1947 with tribal invasion in Jammu & Kashmir Pakistan has been systematically promoted extremism religious hatred, intolerance and exploited religious sentiments of Kashmiri Muslims to communalize our society. Due to infiltration and border disputes and exchange of heavy firing between the armies of the two nations is the disputed territory of Jammu Kashmir always sufferers are common Kashmiri on both side residing along with so-called Line of   Control. Until and unless Kashmir dispute is not settled according to wishes and aspirations of Kashmiri people the loss of precious human lives will continue and the possibilities of a destructive war between two nuclear nations will always exist.
Honourable 
Jammu and Kashmir is a disputed territory. State subject dated the 31st January, 1927 do not allow non-locals to buy property in Kashmir. But Pakistan is violating the state subject and settling its citizens in Gilgit Baltistan and So-called Azad Kashmir to change the demography of these areas.
We are opposing Pakistan's policy to use religion as weapon and terrorism as a foreign policy tool and our region as launching pad and training camps to press the secular, democratic and progressive voices of the entire region. Pakistan claims that she is champion of right to self-determination of people of Jammu & Kashmir but her actions are contrary to her claims. Pakistan declared so-called Azad Kashmir and Gilgit Baltistan as security zones where they can arrest anybody without any charges for unlimited time. 
The government is using the Anti-Terrorism Act (ATA) against secular, progressive, nationalist political workers, civil society activists and human rights defenders who are struggling for their basic and fundamental human rights. Anti Terrorism Court (ATC) in Gilgit Baltistan awarded 40   years in prison to human rights defenders and peaceful political activists Baba Jan, Iftikhar Hussain and their colleagues. 
In so-called Azad Kashmir and Gilgit Baltistan nationalists leaders and political workers are facing sedition charges. Section 124-A is related to sedition, which states that whoever brings into hatred or contempt the federal and provincial government shall be punished with up to imprisonment for life to which fine may be added.
Pakistan is violating UN resolutions on Jammu Kashmir and constructing dams in disputed areas of so-called Azad Kashmir and Gilgit Baltistan. Pakistan has diverted   Neelum River for Hydropower Project, which is depriving people of Muzaffarabad from their water lifeline. The hundreds thousands of resident of Muzaffarabad facing environmental disaster, there are chances of spreading of diseases because of pollution. Chief Justice of Pakistan said that if someone opposes construction of dams would be trial under article 6 of Pakistan, which is related to high treason. Our natural resources are plundered and local people are forced to leave their own land.
Legally Pakistan has no locus stand on Jammu & Kashmir and she has no right to build mega projects' and dams in disputed territory which does not belong to it. People of Muzaffarabad and its surroundings have been protesting against diversion of rivers which cut their lifeline and created ecological and environmental disaster but neither Pakistan nor local authorities are ready to address their concerns and grievances.
Honorable guest,
 Through this august gathering, I request to international community to put pressure on Pakistan to stop promoting and protesting terrorist groups and dismantle terrorist infrastructure from its occupied Jammu & Kashmir commonly known as Azad Kashmir.
Our organization promotes liberal, democratic and secular ideals; and strongly believes that people of State of Jammu and Kashmir are victims of aggression, extremism and violence since 1947. They are forcibly divided, and continue to suffer on both sides of the Line of Control. This forced division and suffering must come to an end, as people deserve to enjoy their fundamental human rights.
I urge upon government of Pakistan to take effective measures to control activities of those who promote extremism, violence and intolerance in various parts of the POJK and in Gilgit and Baltistan. Also, they must ensure that religious and ethnic minorities in Pakistan must not become victims of the intolerance and hate.
I appeal both India and Pakistan to respect and honour civil and political rights of the people of Jammu and Kashmir State. Furthermore, request government of Pakistan to refrain from annexing areas of Gilgit Baltistan and Azad Kashmir, as that will exacerbate the situation. Instead, we request the Pakistani government to grant autonomy to both areas under their control that the elected members could help the local people with everyday social, political and economic problems.
Pakistani establishment must abandon its hitherto policy of a'good Taliban and a'good terrorist', and stop fooling people in name of various military operations because they are designed to only eliminate the 'bad Taliban and bad Terrorists'.
We regret that the Pakistani establishment has not learned anything from their past mistakes; and they erroneously think 'good Taliban' and 'good terrorists' are still Mujahideen and strategic assets. They are highly respected and protected, because they are still willing to fight in Jammu and Kashmir, fight against India, fight in Afghanistan and wherever else their services are required.
I urge upon Pakistan to allow immediate and unconditional access for international human rights observers independent media and press to so-called Azad Kashmir, Gilgit Baltistan.
We upon the UN and international human rights and international community  to send a fact-finding mission to so-called Azad Kashmir, Gilgit Baltistan and Pakistan to ascertain status of human rights situation in these areas; and take appropriate steps to ensure that Pakistan respects all international covenants on human rights