UK
Kashmiris and Sikhs marked the Indian Republic Day as a black day, outside the Indian Embassy London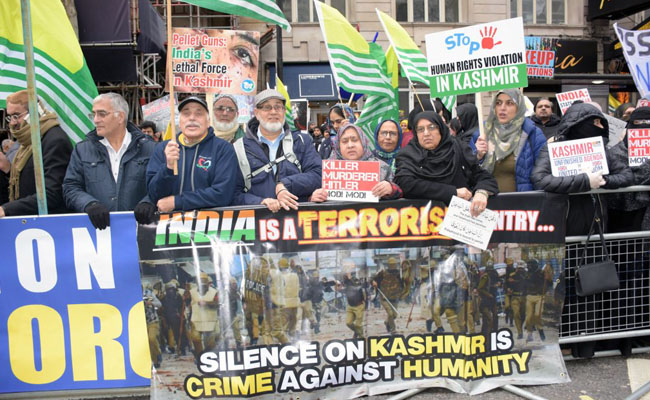 London: Kashmiris and Sikhs marked the Indian Republic Day as a black day, outside the Indian Embassy London. Organised by Tehreek e Kashmir United Kingdom. It was hosted by Fahim Kayani President Tehreek e Kashmir UK and Mohammed Ghalib President Tehreek e Kashmir Europe. Hundreds of people gathered outside the Indian embassy to raise their voices and show solidarity with innocent Kashmiri people in Indian Occupied Kashmir.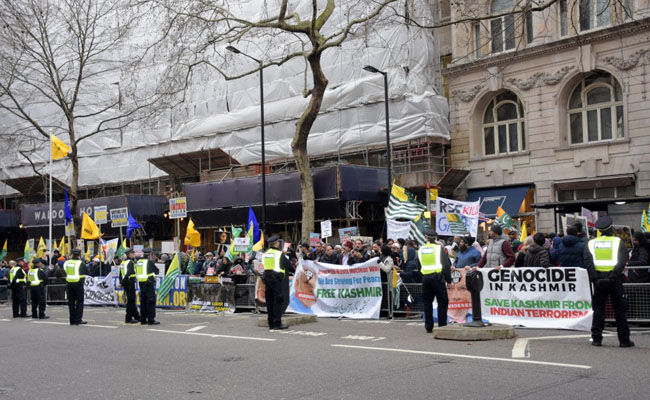 Protestors expressed their views and stated that Kashmiri brothers and sisters have been under siege in Indian Occupied Kashmir for more then 6 months. There is no communication and internet facilities in the valley and the local community is struggling to meet the basic needs of survival.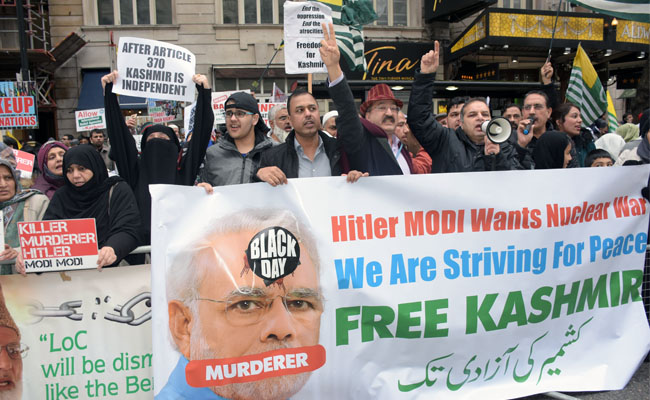 They also demanded that the international community intervene and provide help to the Kashmiri community for their right to self determination and freedom. Protestors chanted slogans against the fascist current Indian Government and condemned the brutal act of PM Modi who has been trying to ethnically cleanse minorities in India and their occupied areas.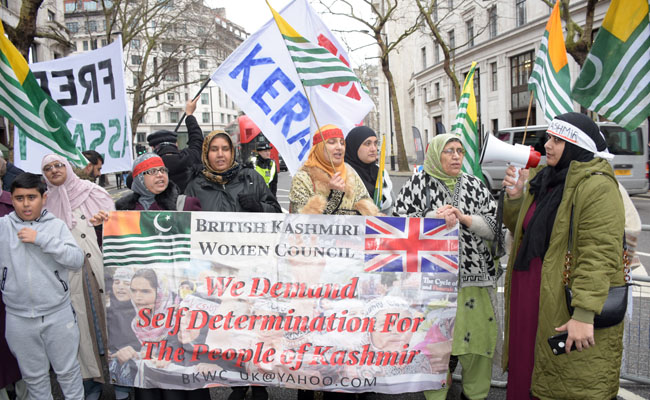 Kashmiris and Sikhs want a referendum under the guidance of super powers, who want to see peace and prosperity in the world and especially in South Asia. They also demanded that the Government of India revoke CAA, NRC, Article 370, 35 A and grant independence to the Kashmiri people who are the under occupation of India since the last 72 years. Angry Sikh protestors also burned the Indian flag during the peaceful protest.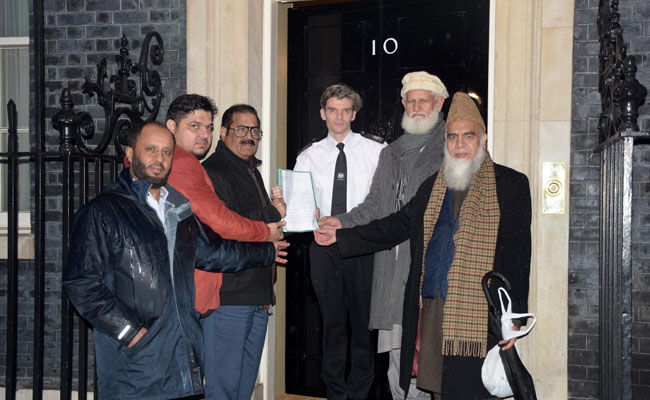 After the peaceful protest, Fahim Kayani President TEK UK along with Ch Yaseen Opposition Leader Azad Kashmir Government, Raja Mohammed Arif Kayani, Mufti Fazal Ahmed Qadri and Mohammed Ramzan submitted a written petition at 10 Downing Street addressed to Prime Minister of Great Britain's MR Boris Johnson.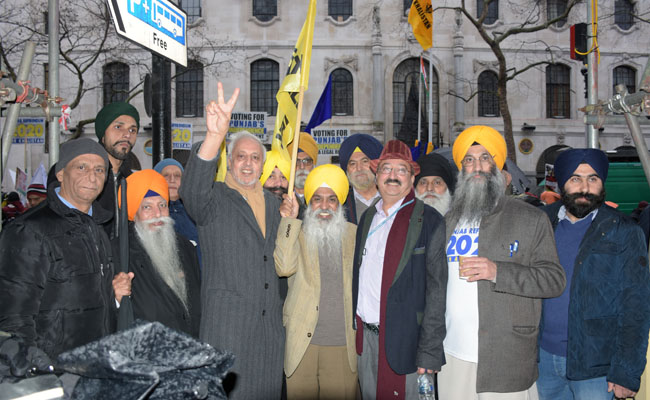 Also present were Opposition Leader of Azad Kashmir Government MLA Ch Mohammed Yaseen, Nazir Ahmed Shawl Founder Kashmir Concern UK, Mufti Fazal Ahmed Qadri President Markazi Jamaat e Ahl e Sunnat UK, Allama Syed Zaffar Ullah Shah Muslim Action Forum UK & Chairman Sabeel Foundation UK, Ranjit Singh Sarai World Sikh Parliament UK, Amrik Singh Sahota Khalistan Council UK, Sardar Yoga Singh Babbar Khalsa, Lord Qurban Hussain from Luton, Graham Williamson Nations Without States UK, Sardar Aftab Adv JI AJK UK, Zubeda Khan Daughter of Kashmir, Saima Suleman British Kashmiri Women UK, Aftab Feruz Pakistan Association Bristol, Mohammed Zayarab VP Muslim Conference UK, Shabbir Malik VP Muslim Conference, Mahmood Riaz Ex Overseas MLA, Wajid Burkey VP PPP UK, Hafiz Mohammed Azad Secretary General  TEK UK, Saleem Butt PMLN AJK UK, Ch Abdul Jabbar PMLN AJK UK, Zaffar Ahmed Qureshi From IOK, Raja Mohammed Arif Chairman Ayesha Mosque Redding, Raja Javed Iqbal Deputy Chairman Haroonia Mosque Alum Rock, Birmingham,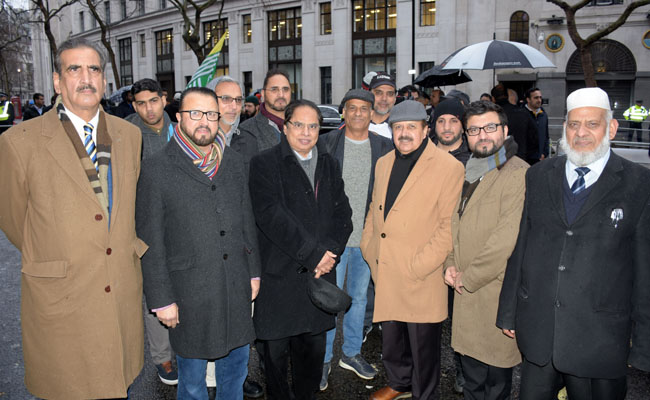 Mohammed Aftab PYO, Ch Shahnawaz PPP WM, Inaam ul Haq Naami PTI AJK UK, Maulana Iqbal Awan Madina Masjid Luton, Mufti Majeed Nadeem Hands worth Birmingham Mosque, Maulana Mohammed Saeed Walsall Ayesha Mosque, Rana Rabnawaz Dudley TEK, Ch Muzzammal Mayor of high Wycombe, Ex Mayor and Deputy Mayor of Oxford Altaf Khan, Cllr M Idrees, Ch Arif Ex Cllr, Ghulam Rabbani, Ex Mayor Nottingham Ch Liaquat Ali, Cllr Raja Zia Ex Mayor high Wycombe, Khalil Ahmed Parliamentary candidate Labour Party, Haji Mohammed Saddique Chairman Islamic Center Brent, Zaffar Jarral PTI, Asif Sharif JKPP, Raja Mohammed Asim UKPNP Nottingham Branch, Shanaz Sidduqe Kashmir Women Council, Ch Liaquat Ex Mayor Walthamstow, Naib Hussain Mughal PPP AJK, Mohammed Younas, Maraya Fareed Jangua, Raja Mubbarik Khan, Ch Allah Ditta from Coventry and others. Report by S M IRFAN TAHIR Photojournalist / Member National Union of Journalists (NUJ) Great Britain.