UK
A Protest was held outside the Indian Consulate in Birmingham, UK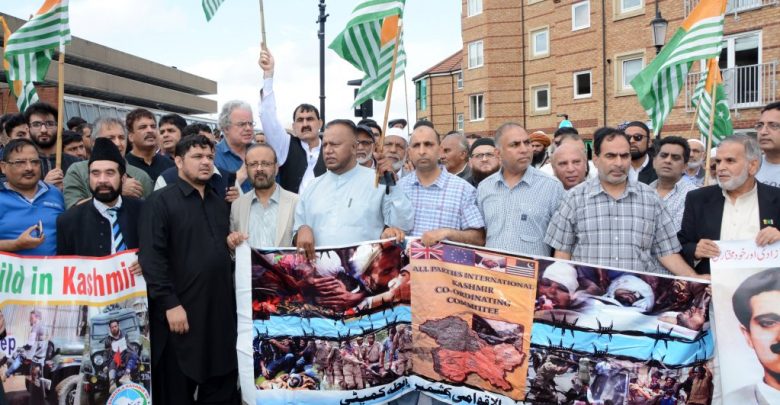 Birmingham: A Protest was held outside the Indian Consulate in Birmingham in which protestors condemned the revoking of Article 370 and 35A in Indian Occupied Kashmir.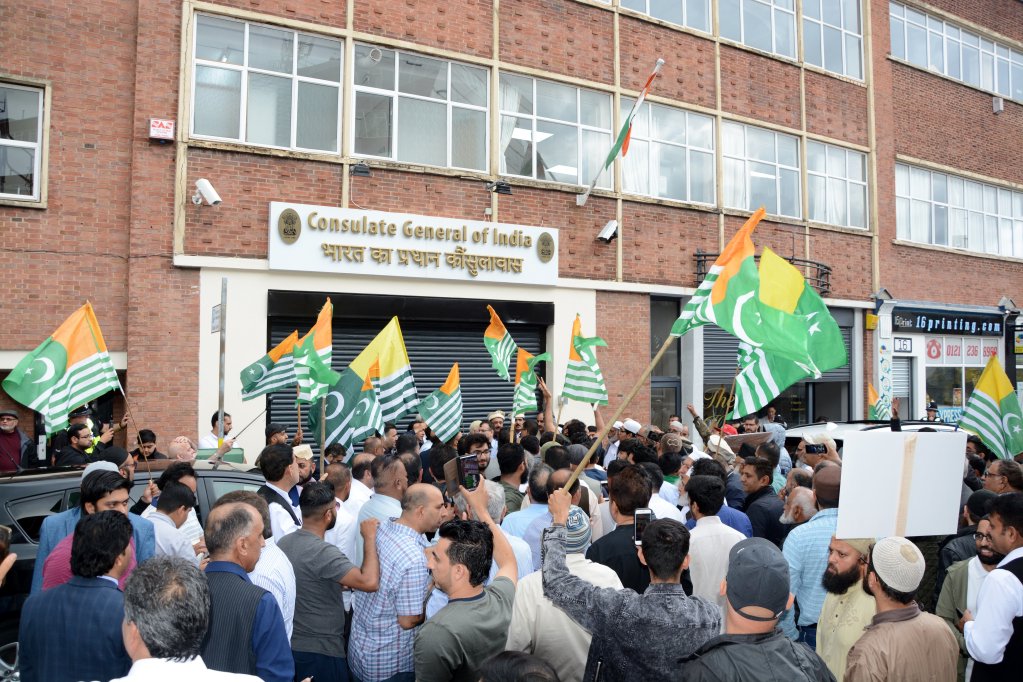 They expressed their view and stated that the demographic Coup in Indian occupied Kashmir is illegal. Pakistani and Kashmiri Political, religious leaders social activists and civilians participated in the event.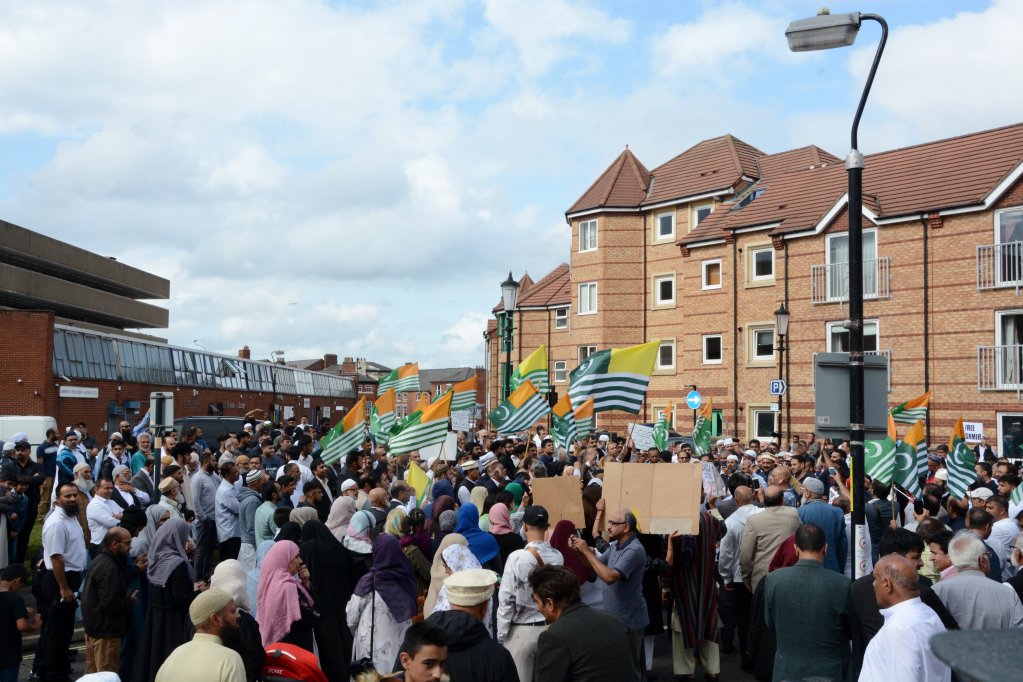 There was a good turnout despite heavy rain today. They raised the issue of Kashmir and urged the international community to intervene and stop the Indian Government from committing Human Rights violations in IOK. They said Kashmiris have their separate identities and no one can steel their rights illegally or by force.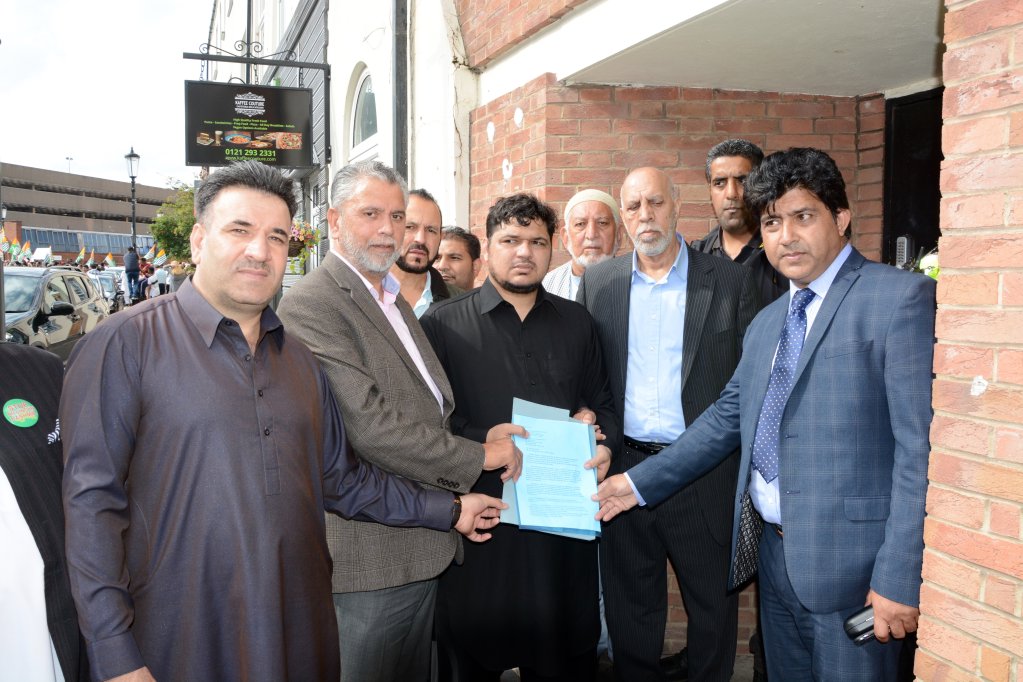 They said they should get their natural right of self determination by all means. They raised slogans against Modi's Government and Indian Armed forces.
In attendance were George Galloway Former Member of Parliament of the United Kingdom , Councillor Mariam Khan, Councillor Mahmood Hussain, Councillor Mohammed Aikhlaq, Councillor Mohammed Idrees, Councillor Zaker Ch, Councillor Babar Baz, Former Assistant Leader of Birmingham City Council Ansar Ali Khan, Mohammed Ghalib President Tehreek e Kashmir Europe, Fahim Kiyani President Tehreek e Kashmir UK, Muzzamil Ayub Thakar, Shaista Saffi, Ch Azim Chairman International Kashmir Coordination Committee UK, Raja Amjed Khan President PMLN AJK Midlands, Ch Khadam Hussain EX President PTI AJK Midlands, Abid Zaman Khattak President PTI Midlands, Rhouf Mughal General Secretary PTI AJK Midlands, Ch Manzoor Hussain, Raja Gultasab Khan, Mufti Fazal Ahmed Qadri, Zainab Khan General Secretary PTI Midlands, Kubra BiBi, Asia Hussain President BPWS UK, Maqsood Hussain, Ex Cllr Shaukat Ali, Ch Aslam Wassan, Qari Tanvir Iqbal Qadri, Zulfiqar Ali Naqashbandi, Zubeda Khan Daughter of Kashmir, Mrs Rani Arif President PTI Women Wing, Zaffar Jarral, Sumaira Farrukh, Bilqees Raja, Sahibzada Farooq Al Qadri and many others.Report by S M Irfan Tahir Photojournalist / Member National Union of Journalists (NUJ) Great Britain.