Articles
Human Rights Violation in Kashmir by Sahrish Ramzan Thaheem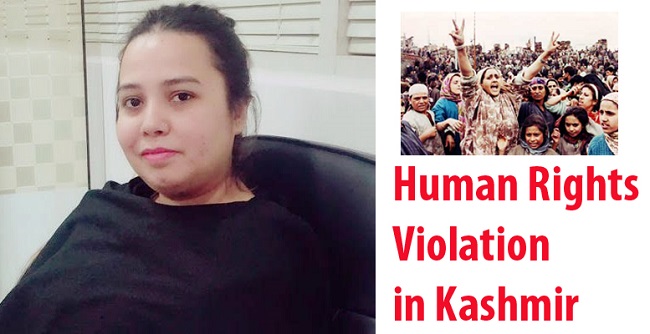 Human rights Violation in Kashmir have been a part of a campaign by the Indian army against Muslim Kashmiris, particularly since 1989.
The abuse is manifested in the following types of violations;
"Disappearances" Torture Raped and molestation of Muslim women's.
Kashmir valley is metamorphically refers to as Heaven on earth but it's also shown be surrounded by a barbed wire drenched in blood.
Indian troops who mistreated our Muslim Kashmiri peoples but we feel sorry for them and criticized Indian troops actions. In addition we do not do nothing.In spite that it's not saying truth that peoples don't make efforts but it's the time to do make efforts jointly as a nation's strength.we should have to generate awareness in our youngsters to also respect the human rights. It's not only the matter of Human Rights violation in Kashmir but it's become the Global issue.As a Human being it's every citizen responsibility to prevail the awareness to our new generations or youngsters.As far as we move towards technology the Human Rights violation become more abused.
Kashmir is the jugular vein of Pakistan.kashmiri peoples want self-determination from India and want to become the part of Pakistan.But we Pakistani people only celebrate Kashmir day is marked by public procession,special prayers in mosques for the self-determination of Kashmir of Kashmir and protests that are carried out against the Indian oppression of Kashmir.
On 22 Sep 2016, "The Prime minister of Pakistan Mr. Muhammad Nawaz Sharif's" speech in 71st session of the United Nations General Assembly gave a momentum to Kashmiri and their whole valley doing sacrifices for their recognized freedom everyday.
He said in his UN General assembly speech " peace and Normalization between Pakistan and India can not be achieved without a resolution of the Kashmir dispute.This is an objective evaluation,not a partisan position.He also said that our predictions have been confirmed by events.So the new generation of Kashmiris has spontaneously against Indians illegal occupation-demanding freedom from occupation.
Pakistan Prime Minister highlighted the issue of Indian brutality on Kashmiri peoples and the Shahadat of young leader "Burhan Wani"which was murdered by Indian forces.
He said:I would like to inform the General Assembly that Pakistan will share the Secretary General a dossier containing detailed information and evidence of the Gross and systematic violations of Human Rights committed by Indian forces in occupied Jammu & Kashmir."
It's really the big step towards Kashmiri self-determination from Pakistan Government,Because Indian army brutalities increases day by day as also the Kashmir young leader "Burhan Wani" murdered by Indian forces has emerged as the symbol of the latest Kashmiri intifada.
Over a hundred Kashmiris have  been killed, including children's and infants, blinded by shotgun pellets and over six thousand unarmed civilians injured over the past two months.
These Indian brutalities are well documented.But these brutalities will not suppress the spirit of the Kashmiris,it will only intensify their anger and fortify their determination to see India end its occupation of Kashmir.From Srinagar to sopore,the men women and children come out each day, to demand freedom.
According to International Law and Declarations of the UN on self-determination,give the Kashmiri people the right to struggle for their freedom.That's why to follow the laws Kashmiri people's wants self-determination under the resolutions of United Nations.Its the Spirit of Kashmiri peoples that even United Nations Secretary General Mr. Ban ki-Moon, OIC secretary Mr. Ayad Amin Madni, EU officials and China, Russia,Turkey,Saudi Arabia and also many other countries are supporting Kashmiris and pressuring to India to stop Gross rout human Right violations in Indian-occupied Kashmir.
Kashmiris begun new movement after the Shahadat of young leader "Burhan Wani" which also the Pakistan PM Nawaz Sharif make divert the attention in his speech in UN 71st session on 22 sep 2016.
After the Shahadat of Burhan Wani the Kashmir freedom fighter Kashmiri people become more anger on Indian forces So after the new movement of Kashmiris freedom,India starts firing in Kashmir borders which results many people killed by Indian forces since many days.Tensions escalating day by day towards war.Indian parliamentarians,media and Hindu extremist organizations are speaking poisons words and very ugly language against Pakistan and Kashmir also.Because Pakistan always raise the issue of brutality in Kashmir.The India didn't digests  these facts that Pakistan supports Kashmir and the unity between Kashmir and Pakistan.
Indian forces Arrests many political personalities or freedom fighters also.Yasin Malik,the chairman of Jammu Kashmir Liberation Front (JKLF) kept in inhuman conditions by Indian Army.He is in jail at critical at critical Health condition since July 8th after the killing of the freedom fighter "Burhan Wani" (Shaheed).And all  APHC (All Parties Hurriyat Council) are also in house arrests or in jails.But now it should be last of these cheap activities made by Indian Government.
PM of Pakistan Mr. Muhammad Nawaz Sharif also raise the issue Infront of United Nations in General Assembly; He said that in his speech on 22 Sep 2016,
The PM states that:
We demand the immediate release of all Kashmiri political prisoners,an end to the curfew,freedom for the Kashmiris to demonstrate peacefully,urgent medical help for the injured,abrogation of Indias draconian laws,and removal of the foreign travel ban on Kashmiri leaders but still nobody take any serious action regarding these damned cheap activities of Indian forces and Government.Yasin Malik is still in Indian army custody In spite critical Health condition.
Mashaal Malik, wife of detained Kashmiri leader "Muhammad Yasin Malik"  has urged the United Nations to take notice of Human Rights violations taking place in India-held Kashmir.She said at a press conference at her residence on 02 oct 2016 that Yasin Malik had been languishing in prison in Srinagar since July 08.The Kashmiri leader's life is at critical Risk since he was shifted to the joint Interrogation center in Srinagar a few weeks ago.
She also said, "My Husband has grown very weak and lost over 15 Kg.Last week He was taken to hospital in army's custody where his medical tests were conducted and results are alarming."
At last I just want to say it's the time to take the strict actions against Indians in humiliations. It is in everyone's interest to settle the Kashmir dispute peacefully without further delay" , otherwise these critical situations may lead towards Nuclear War between India and Pakistan.
Mr.General Raheel Shareef The chief of Army Staff Pakistan determined his strong commitment to defense our territory and Army both side alert on borders,A pity mistake can start a nuclear war in South Asia anytime.