UK
Flag Off Mrs Bharulata Kamble's "Gift-of-Life-Drive" From UK to India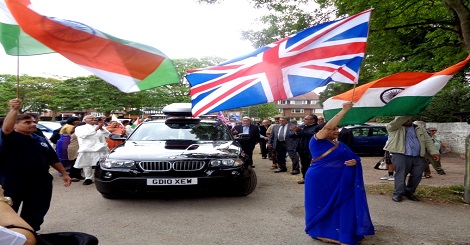 After detailed and careful planning, supported by various community leaders, faith leaders, NGO's, local politicians, MP's and Peers in the House of Lords – time had come for Bharulata to say good bye to everyone in UK. Flag Off ceremony for Mrs Bharulata Kamble was held at a prestigious venue on Sunday 28th August from 9 am at Luton Town Indians Cricket Club and supporters and well-wishers assembled in huge numbers, coming from London, Birmingham, Coventry, Wolverhampton, Rugby, Oxford, Brighton, Bedford, Manchester and Leicester.
All the guests were received at the food stall kindly provided by Sikh Khalsa Langar Aid and Mr Virender Sharma MP also went there to thank them for their help with refreshment for all the guests – an amazing work Khalsa Langar Aid is doing free of cost for all communities in UK. This organisation reflects the spirit of Langar of Sikh faith and take the Guru's Sewa through Langar to people who need them instead of expecting needy to come to Gurudwaras. Mr Virender Sharma MP met Langar Aid team for the first time and he was really impressed. All the visitors were greeted with refreshments and drinks very kindly provided by Khalsa Langar Aid.
The Flag-off ceremony commenced with traditional Pooja performed by Pandit Ravi Bhushan Ji who said the Hindu prayer. All the main dignitaries were requested to light the Holy Lamps and Pandit Ravi Bhushan Ji announced the opening of the ceremony by blowing a holy Conch. Everyone sat spellbound during the holy Hindu service (Puja) where Pandit Ravi Bhushan Ji blessed Bharulata & Dr Subodh with strength, courage and good health to enable Bharulata to complete her mission successfully and patience to family to deal with her absence.
There was a very enjoyable light entertainment programme arranged by Dr Chitra Rama Krishnan starting with a fantastic Bharat Natyam Dance by students of ShrutiUK. It was followed by Violin recital by two young girls from British Carnatic Choir. Dr Chitra Ramakrishnan was the compeer and did a fantastic job. Mrs Bharulata spoke about her mission and the huge challenges that she is about to face after flag off. She also thanked all those who helped her, particularly Mr Virender Sharma MP who was the first person to give her support followed by Councillor Tahir Khan, Mayor of Luton. Mr Virender Sharma MP gave a very inspiring speech, Baroness Varma wished her good luck and Councillor Tahir Khan -Mayor of Luton & Mr Kelvin Hopkins – Member of Parliament for Luton expressed their pride and support for Bharulata.
Time had come for Bharulata to say goodbye to all her supporters and well wishers. There were scenes of emotions, excitement and jubilation with people shouting slogans of "Bharat Mata Ki Jai", Baroness Varma, Mr Virender Sharma MP, Mr Kelvin Hopkins MP for Luton helped by Councillor Tahir Khan Mayor of Luton finally waved British and Indian flags to signify the importance of this mission to strengthen Indo-British ties. Everyone said final goodbye to Bharulata who slowly drove off from the Cricket Club of Luton leaving everyone to relax and watch friendly Cricket match.