UK
Commonwealth Day Flag Ceremony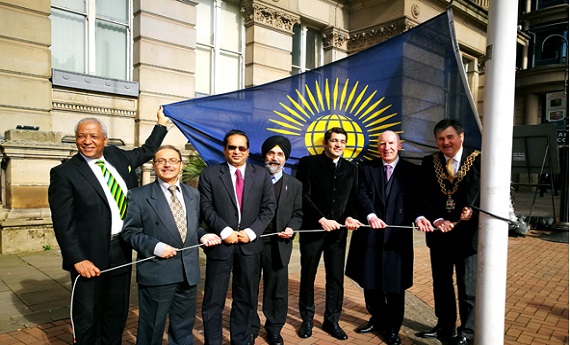 The Lord Mayor of Birmingham started this year's Commonwealth Day events yesterday morning by raising the Commonwealth Flag in the presence of Wade Lyn – Honorary Consul to Jamaica, Tarang Shelat – Hindu Council of Birmingham, Muhammad Zulqar Nain – Assistant High Commissioner to Bangladesh, Dr Bhogal – Sikh community, Dr Aman Puri – the newly appointed Consul – General to India and Keith Stokes-Smith – Chairman of Birmingham Commonwealth Association.
Lord Mayor of Birmingham, Cllr Carl Rice, said: "Commonwealth Day gives us all a chance to reflect on the Commonwealth and also on this great city of ours and what makes it so special.

"As members of the Commonwealth we are united by values set out in the Charter of the Commonwealth, including tolerance, freedom of expression, respect for human rights and the rule of law.

"Here in Birmingham, we don't have an abundance of natural resources, we don't have rolling hills and we're not by the sea.  But the people who live here and who have joined us here to make it their home have all contributed, and will continue to contribute, to its proud history and culture."
Commonwealth Day, which was on Monday (13 March 2017), is an opportunity to promote understanding on global issues, international co-operation and the work of Commonwealth organisations, which aim to improve people's lives.
This year's celebration is also the first Commonwealth Day since Birmingham announced its intentions to bid for the Commonwealth Games.