UK
Controversial & accused Shia cleric Asif Alvi reached the UK from Islamabad
There is also a statement from Shaykh Ghulam Rabbani Founder Faizan-E-Islam London & Jamat e Ahl e Sunnat Great Britain.
London: Controversial and accused Shia cleric Asif Alvi reached the UK from Islamabad. Shia cleric has been accused of insulting the holy figures of Islam (First Khalifa of Islam Hazzrat Abu Baker Siddique R.T.A)۔ An FIR under Sections 295A, 298A and 109 has also been lodged against this Shia cleric in Islamabad, the capital of Pakistan, on August 25, 2020. But his arrest has not yet been made۔ It is said that there are many cases against cleric before but despite this he has been reading Majlis in Islamabad, Pakistan to Northampton, United Kingdom. Reliable sources have confirmed that Asif Raza Alvi is closely associated with key government officials in Pakistan and has not been arrested so far. All Sunni and Ahl e Hadith organisations have strongly condemned Asif Alvi's crucial act. Sunni religious scholars say that this Shia cleric is involved in fanning the flames of sectarianism in Pakistan in the current situation۔ Report by Director Asian News World News TV UK.
https://www.facebook.com/MajaliseAzapage51214/videos/2567983206846340/
Asif Raza Alvi has also issued an explanatory statement in this regard.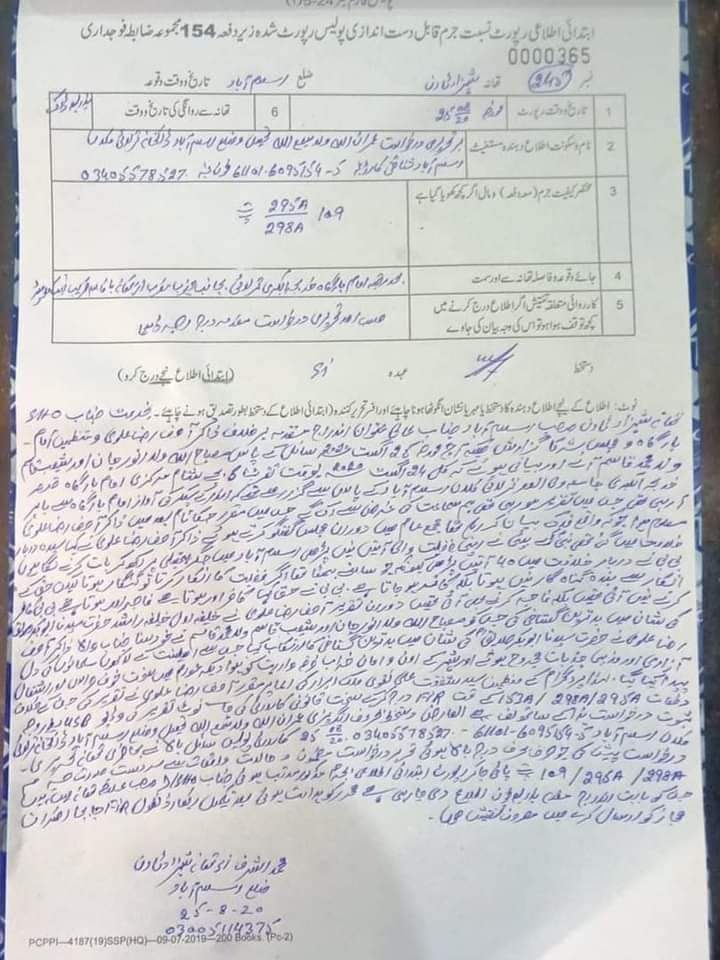 Tragedy. Tragedy. . . . . . . . . . . . . . . On the Holy Land

This arrogant companion is Zakir Asif Raza Alvi who is seen meeting Minister for Religious Affairs Noor-ul-Haq Qadri, Governor Punjab Chaudhry Sarwar, Advisor to the Prime Minister Zulfi Bukhari, this accursed arroga

— M Sajawal (@MSajawa13158245) August 26, 2020
https://twitter.com/OhShahji/status/1298595531476869120?s=20
https://twitter.com/Mik_3130/status/1299133736374743042?s=20
https://twitter.com/iq_jaF/status/1298881818641522688?s=20
One question.. Do all Shias agree with what Asif Raza Alvi said?#ArrestAsifRaza_ShiaKafir_298A

— Real Deal (@RealDea98972733) August 26, 2020
https://twitter.com/R_Rizvi_/status/1298651368484413440?s=20
https://twitter.com/Idiotyou_/status/1298405465265709058?s=20
2) Asif Raza Alvi is a Shiite cleric based in Pakistan who is currently in Northampton attending a religious gathering. He has currently 4 cases of sectarian instigation levelled against him in Pakistan.@lpsmediaoffice @CityPolice @NptonPolic#شیعہ_ذاکرفرار12دن_میں4_FIR pic.twitter.com/vn7TPWgC0X

— Ikram Ullah Khan (@IkramUl31887025) August 27, 2020
Asif Raza Alvi is a Shiite cleric based in Pakistan who is currently in Northampton۔
Please take serious notice@lpsmediaoffice @CityPolice @NptonPolice @Ukhomeoffice @NorthamptonBC @pritipatel #شیعہ_ذاکرفرار12دن_میں4_FIR
1 pic.twitter.com/qjL1JQYK2a

— Ateeq idrees (@Ateeqidrees2) August 28, 2020
https://twitter.com/KkMueed/status/1299249254498742272?s=20
Need support for Allama asif Raza alvi.#باب_الحوائج_علی_اصغر pic.twitter.com/AWDREsLzpU

— Aony (@Aonraza292Aon) August 26, 2020
I saw allama asif raza alvi in my dream before fajr!!like wait I am just so happy rn May allah bless him❤❤❤❤👑

— Zehraaaaa (@iShiagirl) August 25, 2020
This scum has uttered filth while giving a sermon in a majlis at Islamabad. Law enforcement agencies must arrest him, since August 2020, 3 FIRs hv been registered against him In 3 cities all related2article 298 A ppc, but still no arrest till date.#ArrestAsifRaza_ShiaKafir_298A pic.twitter.com/ep5I8jTolk

— laicete (@45laicete) August 26, 2020
Immediate deportation of Pakistani National, Asif Raza Alvi is requested so as to prevent him from causing sectarian tensions in the UK. He is a proclaimed offender in Pakistan.@lpsmediaoffice @CityPolice @NptonPolice @Ukhomeoffice#شیعہ_ذاکرفرار12دن_میں4_FIR pic.twitter.com/zrEabZiysO

— Ibn E Shah (@TariqShah_781) August 27, 2020