Articles
An open letter to Masood Khan a loyal servant of Pakistan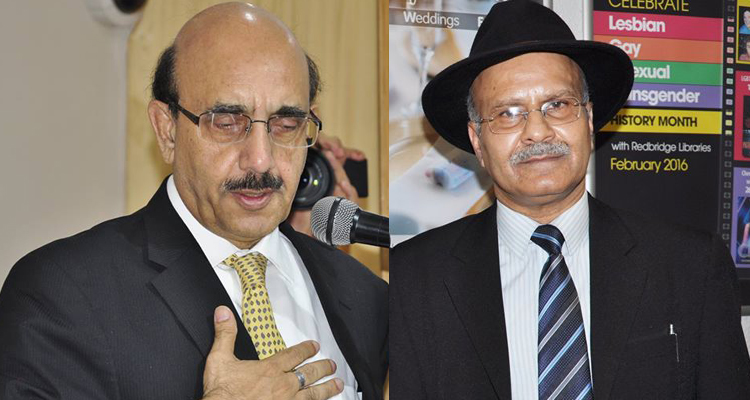 By : Dr Shabir Choudhry
An open letter to Masood Khan a loyal servant of Pakistan.
1. I know you from Geneva when you were serving there as a Pakistani diplomat to protect and promote Pakistani interests. You were posted there as Pakistan's Permanent Representative to UN in Geneva.
2. Before your present appointment in Pakistani Occupied Kashmir, you were posted in Beijing. I must acknowledge that you have sincerely served interests of Pakistan during all your postings.
3. Apart from you there were other competent people aspiring to become President of Azad Kashmir which is no more than a colony of Pakistan, and among them was an old friend of mine, whose loyalty in view of the establishment was not consistent. Because of your unwavering loyalty to Pakistan you were promoted to become President that you continue to protect and promote interests of Pakistan.
4. You were sent to Britain and Europe with a big entourage, not to promote Kashmir cause, but to fool people of Jammu and Kashmir; and to ensure that they continue to fear Islamabad and work within the parameters set up by Islamabad.
5. It is sad that your performance was not to the expected standard, as you failed to handle eloquently questions raised by some Kashmiri nationalists. As a result of your poor public performance, organisers of the trip decided that in future there will be no more interactive dialogue.
6. This aside, during your trip (which in view of some is a holiday trip for those citizens of Jammu and Kashmir who served Pakistan wholeheartedly), you requested people to invest in Azad Kashmir and in projects related to China Pakistan Economic Corridor.
7. Mr President, please, like others, don't think Jammu and Kashmir Diaspora is stupid. Why should we invest money in Azad Kashmir or in Pakistan when our investment and lives are not safe there?
8. I give you an example, and would like to have a reply from you because as a public post holder you are also accountable to people.
9. Mr Farooq Ahmed a British citizen who passed his Masters from Peshawar University and MPhil from England, sold his house and business in England; and invested all his savings in Nawab Café which was purposely built in Mirpur University of Science and Technology. He did everything in accordance with the law of land and university regulations, but the Nawab Café was forcibly closed down by the Vice Chancellor Dr Habib Ur Rehman just because for political and tribal reasons.
10. In a meeting with you, Farooq Ahmed presented a complete file of the case to you; and requested you to help him. He also briefed you on many wrong doings in the University and urged you to take appropriate action against the notorious Vice Chancellor to protect interests of students and espouse accountability, merit and professionalism in the University.
11. Unfortunately, your judgement was swayed by your colleague who poisoned your ears by saying that Farooq Ahmed is having these problems because his relative Dr Shabir Choudhry, who lives in London and writes against the CPEC.
12. Mr President, since when the CPEC has become a holy cow that one cannot criticise it? It is my democratic right to speak and write about hidden agenda of the CPEC; and how it will affect my motherland Jammu and Kashmir, Pakistan and the region.
13. In any case, would you care to tell me, what the Nawab Cafe has to do with the CPEC? Apart from that what has my political, diplomatic and literary work has got to do with Farooq Ahmed and his investment in the Nawab Café?
14. I hope you are not among those who want to forcibly silence right of expression, and political activities. If pressure on the writer and political activist doesn't work, then blackmail and intimidate his relatives even though when they have absolutely no role in politics. If that is the case, then sadly you did not learn anything during your service in the UN at Geneva and New York.
15. I suggest you read my new book titled, 'Is CPEC Economic Corridor or a strategic plan'? You will surely learn how dangerous is this project for Pakistan, Jammu and Kashmir and the region. You can buy it from Amazon.
16. Farooq Ahmed has not only lost his business and his hard – earned money; he is also harassed and intimidated by secret agencies and local administration. Why people should invest their money when there is no safety for them?
17. Before you ask other citizens of Jammu and Kashmir to invest money in Azad Kashmir and in Pakistan, won't it be prudent that you ensure that people like Farooq Ahmed who have already made an investment, their money is safe and their families are not intimidated and harassed.
18. Mr President, I hope when you return from your holiday in England and Europe, you will find some time to examine the file of Farooq Ahmed; and take appropriate action regarding the Nawab Café and the Vice Chancellor who, in view of his critics is perceived as the most corrupt Vice Chancellor in South Asia.
19. Mr President, I look forward to hearing from you.