World News
China enjoys traditional friendship with Islamic countries and has close communication and exchanges with the OIC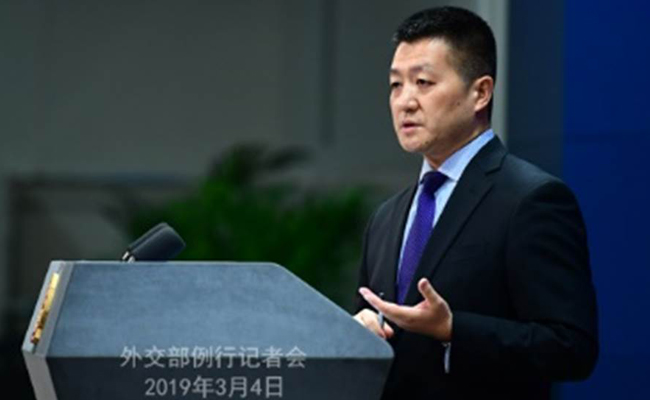 Foreign Ministry Spokesperson Lu Kang's Regular Press Conference on March 4, 2019
Q: We know that for some time, several western countries have been finding faults with China on Xinjiang-related issues. But last weekend, in Abu Dhabi, the 46th session of the Council of Foreign Minister of the Organization of Islamic Cooperation (OIC) adopted a resolution which commends China's efforts for the Muslims. What is your comment?
A: The resolution adopted by the 46th session of OIC Council of Foreign Ministers on March 2 in Abu Dhabi speaks highly of and fully recognizes the efforts China has made for Chinese Muslims and expressed its willingness to strengthen cooperation with China. The Chinese side appreciates that very much. Not long ago, an OIC delegation visited Xinjiang when they were in China for a political consultation. They saw for themselves that local Muslims live a happy life with good employment and full freedom of religion. They spoke highly of China's ethnic and religious policies and recognized China's efforts for preventive counter-terrorism and de-radicalization. In fact, China enjoys traditional friendship with Islamic countries and has close communication and exchanges with the OIC. Under the current circumstances, China stands ready to work with the OIC to strengthen mutually beneficial cooperation with the OIC and the Islamic world and forge the relationship into a model for cultural exchanges and South-South Cooperation.
Q: Pakistani media have been reporting that according to Pakistani Foreign Minister Shah Mehmood Qureshi, a special envoy from China will be visiting both Pakistan and India to help defuse tensions between the two countries. Does China have any comment? There are also reports that Russian Foreign Minister Sergey Lavrov has proposed that the Shanghai Cooperation Organization (SCO) mechanism can be a forum where this issue can be discussed. Would you agree with the Russian view?
A: On your first question, we have said many times that we hope that India and Pakistan, as two important countries in South Asia, will enjoy good neighborliness and friendship and resolve their issues through friendly consultations. I have said that in order to alleviate recent tensions between India and Pakistan, China is in close communication with both to facilitate reconciliation and dialogue. China will continue to play a constructive role in its own way in whatever that will help ease the situation and promote regional peace and stability.
As for your second question, I have seen relevant reports that the Russian Foreign Minister proposed to do something under the SCO mechanism. Our principled position is that we encourage all constructive efforts towards easing tensions and promoting peace and stability in the region by relevant parties of the international community.
Q: Is China ready to play a mediation role between India and Pakistan? Russian Foreign Minister Sergey Lavrov says Russia is ready. I was wondering if China is also ready to do this?
A: Regarding the relevant remarks from the Russian side, as I said earlier, we welcome all positive measures towards easing tensions and promoting regional peace and stability. In fact, China has been in close contact with both India and Pakistan and making efforts to promote peace and facilitate talks. We will continue to play such a constructive role.