World News
Human Rights Situations that Requires the Council's Attention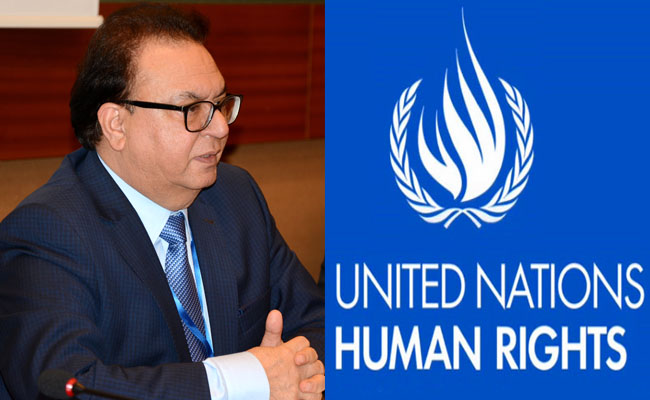 United Nations Human Rights Council`s 39th Session at Geneva Human Rights Situations that Requires the Council's Attention.
General Debate: Item-4 NGO: CIRAC (ECOSOC) Intervention by Sardar Shaukat Ali Kashmiri Our organization would like to draw HRC attention towards grim human rights violations in Pakistan and its held part of Jammu & Kashmir. Pakistan is violating UN resolutions on Jammu Kashmir and constructing dams in disputed areas of so-called Azad Kashmir and Gilgit Baltistan. Pakistan has diverted Neelum River for Hydropower Project, which is depriving people of Muzaffarabad from their water lifeline.
The hundreds thousands of resident of Muzaffarabad facing environmental disaster, there are chances of spreading of diseases because of pollution. Chief Justice of Pakistan recently said that if someone opposes construction of dams would be trial under article 6 of Pakistan, which is related to high treason. Our natural resources are plundered and local people are forced to leave their own land.
Mr Chairperson, Independent judges and lawyers are under threat Justice Shaukat Aziz Siddiqui of the Islamabad High Court has expressed his displeasure over interference of secret agencies in the judicial affairs Justice Siddiqui stated that ISI interferes and decide to formed benches of the courts. While hearing the cases of missing persons, the Justice appealed to Pakistan's Chief of Army Staff (COAS), for "barring his persons from intervention in the matters of other institutions," adding that Army Chief Bajwa should take cognisance of the upsetting situation prevailing in the country.
He further claimed that judges live in danger as the officials of the security agencies are tapping their telephones. Addressing a representative of the Inter-Services Intelligence (ISI) who appeared in the court, Justice Siddiqui said, "Your personnel try to form a court bench of their own wish and the army chief should be aware of the misdeeds committed by them". "Enforced disappearance of citizens, businessmen, and other influential persons has become a routine in the capital city," he added.
Justice Siddiqui further ordered that the intervention of secret agencies in the affairs of the judiciary, executives and other departments should be restrained and warned the secret agencies should abide by the law. Mr. Chairperson, Justice Athar Minullah of Islamabad high court said that he and his family members are under surveillance by secret agencies of Pakistan he and his family members are under threat.
I would also like to urge upon this august council to take urgent heed to the violations of state subject rule and land encroachment by the Pakistani military officers and businesspersons in so-called Azad Kashmir and Gilgit- Baltistan to satisfy local population.
We urge upon the Council to take serious note on Pakistan's human rights situation and send a fact-finding mission to these areas to stop serious human rights violations and protect life of voiceless and marginalized people of so-called Azad Kashmir and Gilgit Baltistan. I, Thank you.
Disclaimer: The views and opinions expressed or referred to in this article do not necessarily represent those of WNTV or any of its staff or editors. WNTV's aim is to provide, so far as possible,  a platform for external contributors with limited editorial intervention. Accordingly, readers are asked to note that the publication of articles on this site is not in itself to be taken as WNTV's endorsement of any reported third party position, policy or statement.