Artists create incredible work inspired by Thugs Of Hindostanin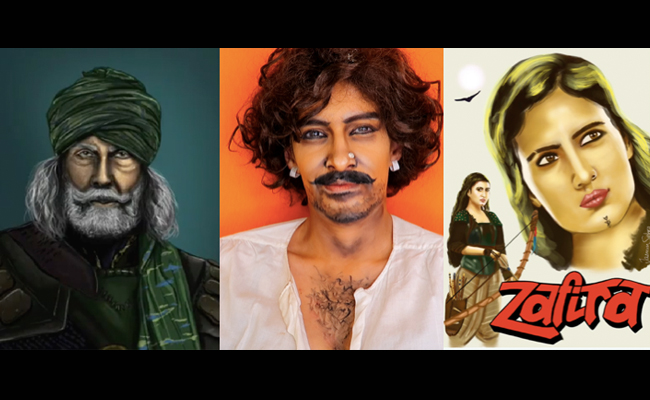 Witness the biggest visual spectacle hitting the big screen today at IMAX
Book your tickets now: www.thugsofhindostan.co.uk
The much-anticipated Thugs of Hindostan is in cinemas and IMAX today, and while many fans will be celebrating Diwali with the Thugs this weekend, these artists have gone above and beyond.
Inspired by the film, these incredible creatives have shown off their talent.
Artist Ravnita Rayethas created amazing digital artwork of Amitabh Bachchan as Khudabash Azaad.
Make up and special effects artist Marina Mamic,all the way from Croatia, has undergone a mind-blowing transformation into Aamir Khan's character, Firangi Mullah.
Marina Mamicsaid, "When I first saw the trailer for Thugs Of Hindostan I immediately decided that I wanted to transform into Aamir Khan's character Firangi. His character is funny, has a very interesting style and Aamir Khan has specific facial features which is important for me when creating my transformations. It took me a long time, but it was so much fun. I honestly can't wait to see the movie. I think it's going to be amazing!"
Jasmin Sehra is inspired by old-school Bollywood, and has created a beautiful character for Fatima Sana Shaikh's character Zafira.
 Also included in the campaign, is a craft video from Momtaz Begum-Hussain of Craft Cafe, and a dance tutorial video from award-winning radio presenter Anushka Arora, inspired by Katrina Kaif's song Suraiyya.
Yash Raj Films' Thugs of Hindostanis in UK cinemas and IMAX (Hindi only) today in Hindi and Tamil.
Watch the #ThugsOfUK videos here:
Ravnita Rayet: https://www.facebook.com/yrf/videos/460367461153162/
Marina Mamic: https://www.facebook.com/yrf/videos/337713760139405/
Jasmin Sehra: https://www.facebook.com/yrf/videos/335617113657613/
Momtaz Begum-Hussain: https://www.facebook.com/yrf/videos/294088714536441/
Anushka Arora: Keep your eyes peeled tomorrow