UK
JKSDME Organised 15 August Kashmir Black Day in Birmingham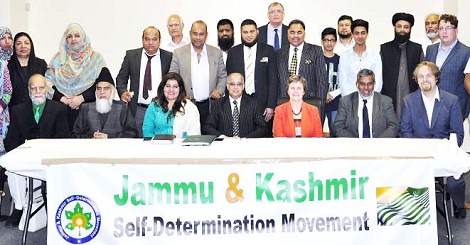 Birmingham: JAMMU KASHMIR SELF DETERMINATION MOVEMENT EUROPE organised Kashmir Black Day in Birmingham on MONDAY 15th August in BAHU CENTRE Chaired by the chairman Raja Najabat Hussain and Cheif Guests were Sahibzada Peer Sultan Fiaz Ul Hassan Qadri Sarwari and Anthea McIntyre MEP Chairperson Friends of Kashmir in the European Parliament.
The speakers were Hafiz Fazal Ahmed Qadri President Sunni Hurriat Councill UK, Mohammed Azam Secretary General JKSDME, Ms Hina Malik Secretary General of Pakistan Muslim League-N women Team UK, Mrs Sumaira Farrukh Chairperson BTM Global, Jimmy Cooper Chairman West Midland Conservative Party ,Raja Mohammed Ishtiaq Chairman Quaid e Azam Trust UK, Ch Mohammed Azeem Chairman Kashmir Forum UK, Barrister Abdul Rasheed Mirza, Mufti Nazir Ahmed Qadri, Mohsin Ali Hashmi, Alama Mohazam Ali Qami, Mrs Zahida Habib, Raja Sikander Khan Chairman JKSDME Greater London, Cllr Robert Alden Conservative Group Leader in the Birmingham City council and Jahid Chaudhary Special Attendance Councillor Gary Sambrook , Dr M Farooq , Mrs Nighet Farooq, Mohammed Sajid Qadri , Aneela Asad, Mamoona Khan, Allama Mohammed Nazir Mehravi , Irfan Butt and others.
Raja Najabat Hussain Chairman Movement Announced the Program of His Organization supported by Peer Sultan Fiaz Ul Hassan Qadri,Hafiz Fazal Ahmed Qadri and Anthea McIntyre MEP Chairperson Friends of Kashmir to Organize a Protest on Sunday 2nd of October in Birmingham outside the Conservative Party Conference as well as International Kashmir Conference in House of Commons London on Wednesday 26th October and demonstration outside 10 Downing Street London on Thursday 27th and a conference in the European Parliament Brussels on 7th and 8th November supported by the Friends of Kashmir Parliamentary Group.Jammu Kashmir Self-Determination Movement Europe is committed to raise the voice for the Kashmiri Nation all over the Europe during next few months with the support of all parties Kashmiri and Pakistani diaspora specially women organizations and youth groups.
JKSDME Secretary General Mohammed Azam will hold events and meetings with the Labour leadership in their party conference in Liverpool.
JKSDME team will be delighted to work with the Pakistan Muslim League-N UK women team and BTM Global and other Human Rights activists including families of Occupied Kashmiri Diaspora Coverage By S M Irfan Tahir Photojournalist National Union of Journalists (NUJ) Great Britain.