UK
Awards launched to create healthier and happier workplaces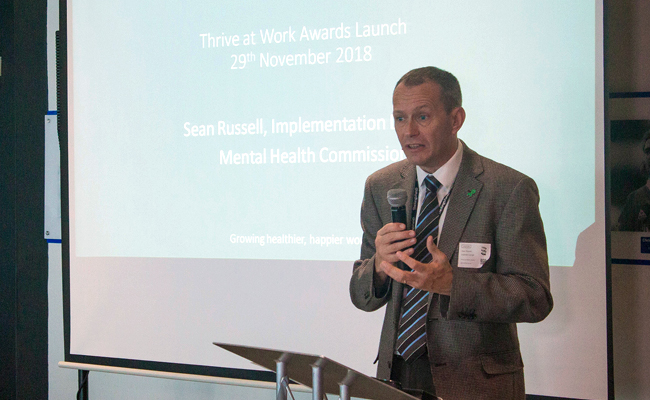 Employers from across the region came together in Birmingham today to learn about Thrive at Work and make a commitment to promoting wellbeing in the workplace.
An audience of around 100 heard speakers including the government explain exactly why taking care of our mental health is just as important as physical wellbeing – and why good mental health is vital to business.
The Thrive at Work launch, at St Andrews, Birmingham City FC, saw both public and private sector employers, mental health professionals from the health service and voluntary sector meeting to learn more about the West Midlands Combined Authority-led (WMCA) scheme.
Jennifer Heigham, head of delivery Government Work and Health Unit, said: "Thrive at Work is paving the way to healthier, happier workforces and higher productivity.
Supt Sean Russell at the launch
"This region is really leading the way and I can hear the excitement around this agenda here today in the West Midlands."
Sally Evans, UK Wellbeing Lead Pricewaterhouse Coopers, added:  "As a large global organisation we have a responsibility to try to do positive things in the community – and wellbeing and mental health particularly is top of that agenda."
Thrive West Midlands implementation director and WMCA wellbeing director Supt Sean Russell said the programme was already touching more than 62,000 people across the region.
He said: "If we don't look after the well-being and mental health of our people, we can't make ourselves great."
Thrive At Work supports organisations in improving the health and wellbeing of employees, with a free toolkit to work towards accreditation and awards.
Businesses can work towards three levels of the Thrive at Work Commitment – Bronze, Silver and Gold. Businesses who show exemplary practice will be eligible for a Wellbeing Award.
Organisations wishing to take part must sign a declaration committing their business to implement Thrive at Work.
Researchers will need access to the business, and to interview employees, and businesses will be asked to feedback on how the commitment is working, its costs and effects.
More information is available at: https://www.wmca.org.uk/what-we-do/thrive/thrive-at-work/